Banks were once the place where banknotes were deposited and withdrawn. The requirement for visiting ATMs or even carrying cash was then eliminated when ATMs with debit and credit cards entered the picture.
What if the next step is the use of metaverse technology in banking, given that the banking sector is one of the primary industries affected by every wave of digitalization?
Imagine entering a bank branch virtually and using avatars of customer service representatives to help you enter the vault and make a virtual deposit or withdrawal. Imagine having the option to pay with dollars from your savings account, a bank-issued digital currency, or even with tokens from a virtual wallet like Ethereum. Due to banking in the metaverse, all of these fantastic hypotheses could be real.
We will delve into topics like the business opportunity for metaverse in banking, the advantages of metaverse banking, the banks that have already entered the market, and how banks should plan their entry into the metaverse in this blog.
What gave rise to the metaverse in the banking sector?
The banking sector is currently in its fourth stage of transformation, with NFTs and cryptocurrencies taking center stage. Several banking organizations have simultaneously moved into the fifth stage, known as the metaverse.
Let's examine the metaverse bank's development stages and the problems that led to them.
1. Traditional banking
It was a two-tiered banking system dominated by central banks that depended on in-person transactions with clients. The process was notorious for being paper-based, labor-intensive, and lacking in personalized and customized financial products.
2. Internet banking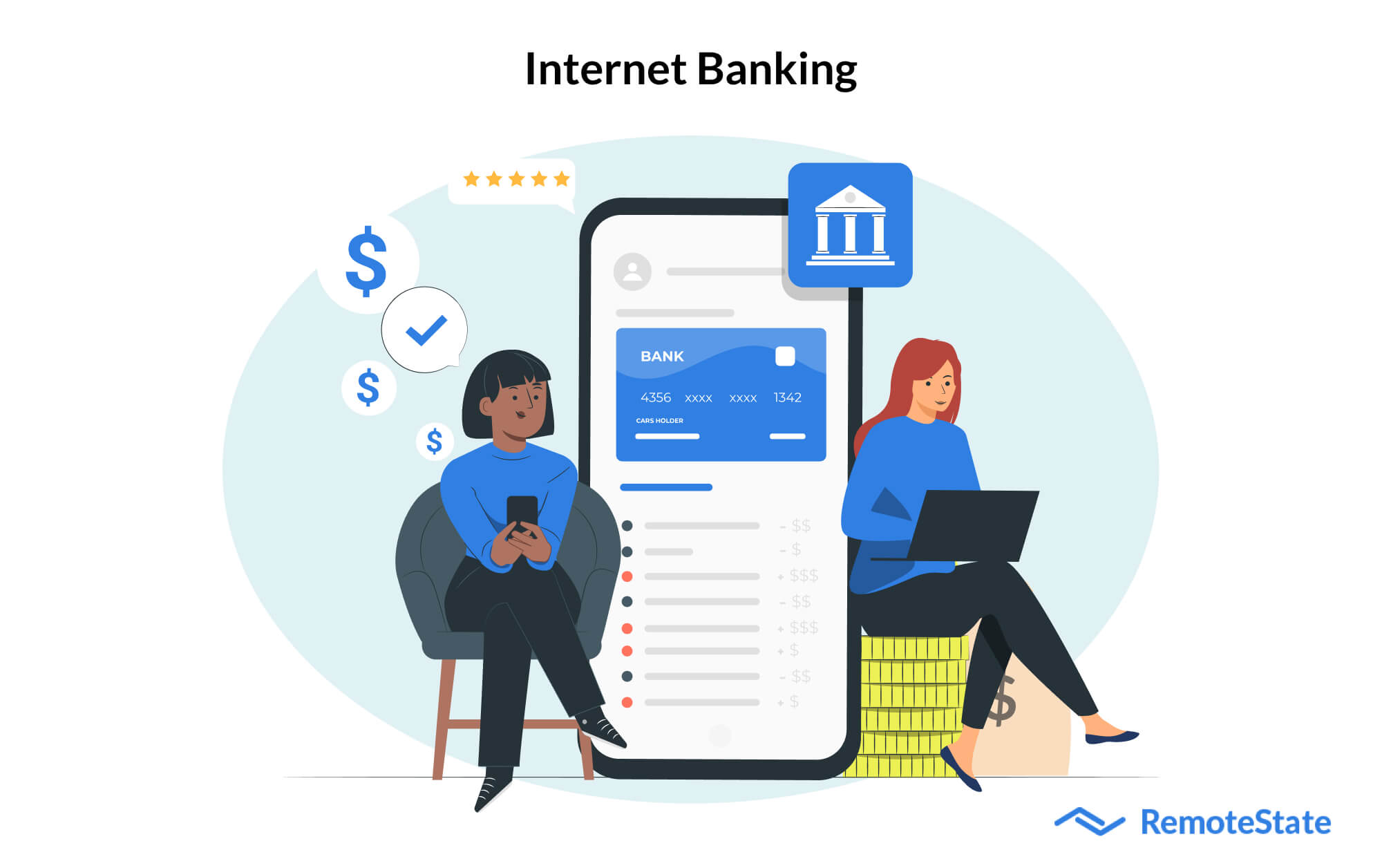 In the past ten years, the banking sector has undergone a complete digital transformation. It was separated into two categories: the first involved digitalizing current processes so that they could be accessed via mobile and the internet, and the second involved creating new customer journeys to satisfy customers' demand for a digital-first experience.
3. Open banking
The banking sector has made itself available to be connected with third-party services via APIs over the previous three to five years. This has resulted in the development of numerous neo-banks and cross-industry marketplace offerings by banks (such as health services, purchasing and selling automobiles, energy services, etc.).
4. Digitalized finance banking
Blockchain has given rise to a new secure, wide, and quick banking industry with the arrival of Web3. NFTs and cryptocurrencies, which have introduced whole new assets to the financial system, such as art, gaming, and real estate, have a significant impact on this.
5. Metaverse in the banking sector
Banking is one of the businesses where the metaverse has experienced tremendous growth over the previous one to two years. The sector is poised for another enormous shift as virtual banking experiences take center stage.
Let's explore the idea further now that we have examined how banks evolved to give rise to metaverse financial services.
The potential of the metaverse for banks
According to Morgan Stanley and Goldman Sachs, the metaverse domain is expected to grow to a size of $8 trillion soon. Banks are essential in the current market valuation. Banks will be able to reinvent how they interact with their clients and with which offerings by using technology like AR/VR and cryptocurrency.
The banks that have joined the market are still trying to find their place, even though the technology has enormous potential for the banking sector by providing solutions to the numerous problems customers confront. I'll explain by giving you some instances of how the metaverse is now being used in banking.
JP Morgan

They have established an Onyx lounge in the Decentraland metaverse where they enable international transfers, the creation of financial assets, storage, and trading.

HSBC

They have invested in a plot at The Sandbox metaverse that will be created for interacting with gamers and esports fans.

Standard Chartered

The financial institution has also purchased the property in The Sandbox, which it intends to utilize for metaverse experimentation and the development of new services for customers.
Even though these are just a few of the top brands in the metaverse banking industry, as we talk about this transformation, more banks are entering the market. So what do banks gain from funding metaverse initiatives? After all, things have reached a point where they cannot be replaced, so why? This is why.
Metaverse's benefits in the banking industry
A variety of advantages exist for traditional banking in the metaverse. benefits that open up new financing methods in addition to having an impact on customer experience.
Enhancement of current 3D functionalities
Several banks have begun educating their staff on VR because 47% of bankers believe that AR/VR will be a viable alternative to current transaction channels by 2030. As an example, Bank of America has created a virtual reality training program for its 50,000 workers that simulates actual client scenarios. Additionally, BNP Paribas even released a VR app that lets users conduct financial transactions in virtual reality.
Allowing 3D customer and employee experiences will provide banks access to more advanced solutions that will allow them to reach out to a new target market and build their dominance. Here are a few advantages of 3D for banks, to sum up.
Provide customers with the opportunity to monitor their balance, pay invoices, and transfer funds using AR/VR platforms.

Employee experiences: Create a sense of community among remote workers as they are onboarded and provide an immersive learning environment through simulated client scenarios.
Engaging clients in several ways
Institutions have the chance to reevaluate how they connect with clients and how they may use avatars to provide sympathetic service when they engage in banking in the metaverse. How will the metaverse impact financial services? The experience-focused response is two-fold:
Personalized connection: In the metaverse, banks can provide high-touch service to their clients by offering them a virtual view of their portfolio and revenue, holding virtual financial planning meetings, and making well-thought-out product recommendations.

Brand extension: By mimicking actions like ATM cash withdrawals, branch placement and architecture, and more, banks may extend their real experience in the virtual world. Customers would feel more connected to the bank as a result.
Develop fresh products
Many chances exist to use cutting-edge banking products in the metaverse, such as -
Digital payments

Digital assets like NFTs and cryptocurrency

Digital twin
As a result, physical and virtual banks become more interconnected, and banks are given access to new revenue streams.
So those were the three main advantages of the metaverse for banking. But for a bank, entering the area might be extremely difficult. After all, it moves them towards total virtualization, which is vastly uncharted territory. Even though the metaverse has made financing considerably easier, banking institutions must plan their use of metaverse technology and set milestone-based targets.
Final words!
Banking is about to undergo a digital change that has never been witnessed before. Metaverse is much more than just a development in technology that will create new revenue streams. It is a platform that banks may make use of to engage with their clients emotionally and personally in a new setting.
What banks do today will determine how open they are to digitization, especially given that some of the top banks in the world have already entered the metaverse. Banks that don't take the lead now will have to compete for space in other ecosystems.
We can assist you as you enter the space right away. Contact our team of professionals right away.