Home healthcare was once thought of as a luxury that only a select few could afford.
But now, because of the development and accessibility of technology, we are living in the digitalization era of healthcare.
Technology has been the primary force behind the evolution of the workplace, home, and healthcare industries.
Let's talk about some important statistics to understand where home healthcare technology is headed in the future.
Grand View Research estimates that in 2019, the worldwide market for home healthcare was worth USD 281.8 billion.

With a market share of over 42%, North America led the world in 2019.

The senior population is predicted to grow to 88.5 million by 2050, accounting for 20% of the country's population, significantly boosting the demand for senior healthcare.

From 2020 to 2027, the market for home healthcare technology solutions is anticipated to expand at a compound annual growth rate (CAGR) of 7.9%.

Home Healthcare Market Scope estimates that the market will be worth USD 303.6 billion in 2020. The estimated revenue for 2027 is 515.6 billion.
What exactly is home healthcare?
With the help of home care technologies, you may get long- or short-term expert medical care in the convenience of your own home. Innovations in home health care not only provide services for the elderly or improve senior care, but also for individuals with a variety of conditions, such as those who have special needs or a disability, those who are aging and require assistance to live independently, those who are recovering from a medical setback, those with chronic illnesses, etc.
There are several applications available for home health care services as well, which can assist patients in offering rapid fixes. Doctors are easily accessible via phone or in-home help. As agencies and healthcare app developers switch from paper to digital records, running home healthcare businesses and sharing information online will become more efficient.
Home healthcare service types: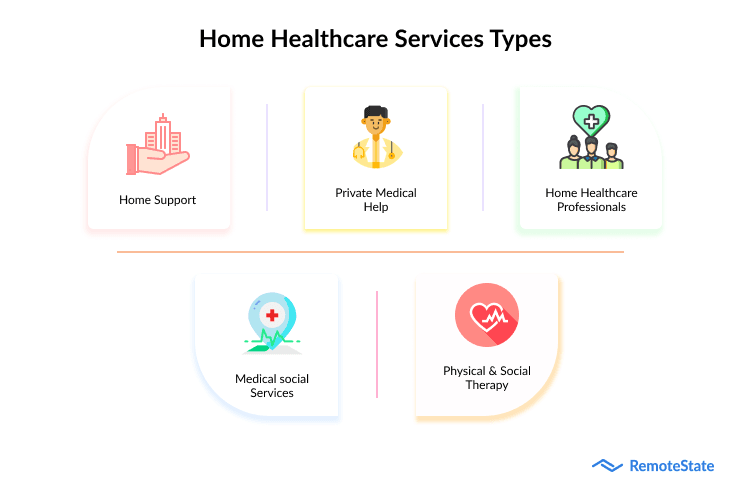 Home support: With medical aid, trained caregivers may assist patients with everyday duties including getting dressed, getting ready for the day, preparing meals, and other household chores. People may enjoy freedom and safety thanks to this.
Private medical help: Enables patients to get treatment at home. In order to care for persons with chronic illnesses, specific needs or disabilities, and medical injuries, requires medical professionals including physicians and nurses.
Home healthcare professionals: In order to recover from an illness or injury and enhance their lifestyle, people need home healthcare, such as the help of a therapist, dietitian, nurse, or physiotherapist.
Medical social services: Medical social services provide patients with a range of medical care at home, such as counseling and locating resources in the neighborhood to aid in their rehabilitation. Some social workers also serve as the patient's case manager when the patient's condition is exceedingly complicated and calls for the coordination of several services.
Physical and speech therapy: This may be necessary for certain individuals after illness or injury to help them retrain their motor skills or improve their communication. To help a patient heal or improve the use of muscles and joints, a physical therapist might put together a plan of treatment. A speech therapist can help a patient regain the ability to communicate coherently despite impaired speech.
Technologies Affecting the Ecosystem of Home Healthcare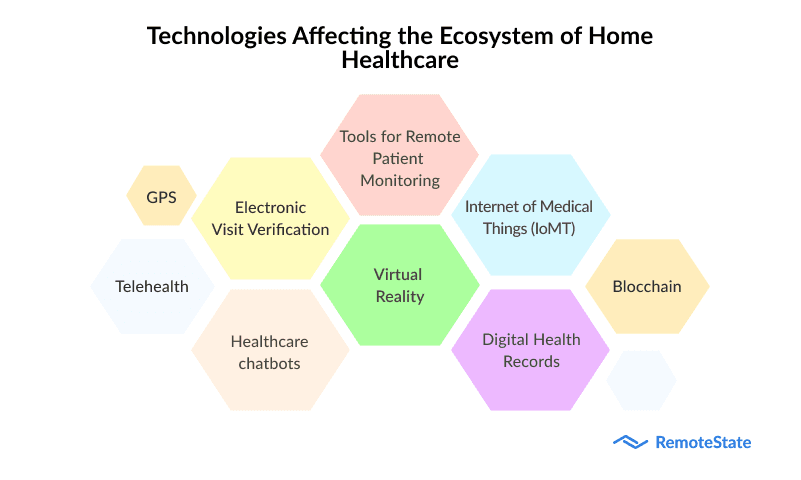 Technology's power is transforming home healthcare products and services! Real-time technology may be used to identify the needs for medications, equipment, and other healthcare necessities.
The details of how technology is employed in healthcare are provided in the points below. But you should be aware that home healthcare technology has advanced to a new level!
Electronic Visit Verification
A device called electronic visit verification, or EVV, assists in verifying caregiver appointments, scheduling, and cancellations to prevent missed home visits. Thus, a home healthcare worker's service is electronically authenticated. It basically consists of
The kind of service that person has requested
Details about the patient
Details about the home healthcare provider
The location where the service is needed
When is the service due on?
Time of service's start and finish
Tools for Remote Patient Monitoring
The instruments or equipment that are used to track a patient's health are known as home health monitoring devices. Fitness bands are available now and regularly measure a person's actions, including the number of steps they take, how much sleep they get, what they eat, etc. These ground-breaking uses of wearable technology in healthcare provide people the reassurance that someone is keeping an eye on them and recording every step they take toward leading healthier lives. To cut down on the price and time spent seeing a doctor, these gadgets may also be connected to smartphones.
Virtual Reality
VR technology benefits both patients and medical professionals. Healthcare personnel is now trained in a more realistic and risk-free setting using virtual reality. The age difference between young doctors and elderly patients is also widened as a result. In this manner, medical practitioners have the ability to improve their skills.
Internet of Medical Things (IoMT)
The internet of medical things, often known as IoMT, is made up of medical services, equipment, and data. By 2022, the IoMT will be valued at $158.1 billion, claims Deloitte. Here are a few benefits of IoMT for both patients and medical professionals:
It lessens the space for error.
It is possible to keep track of medication intake and its effects.
Digital treatment, such as acupuncture, massages, etc., can be used to lessen pain.
Caretakers can monitor things like blood pressure, temperature, glucose, and heart
rate with the use of biofeedback equipment.
Telehealth
Consumers can communicate with medical professionals using technology through virtual home healthcare services like telehealth and telemedicine. Using smartphone applications or video conferencing, medical professionals are at the tip of your fingers. Let's talk about a couple of additional advantages of medical technology:
Patients who are elderly or handicapped can prevent errand running by using telehealth.
Doctors may evaluate patients at any time or place, and the results can be sent instantly.
Being able to check on the patient in non-emergency conditions also makes the remote patient monitoring (RPM) procedure simpler for the medical staff.
Blockchain
Blockchain technology will change the healthcare sector. Large amounts of data from several sources are mostly used in home health care. To obtain the necessary insights for the appropriate therapy, the data must undergo comprehensive analysis. Several benefits of blockchain in healthcare are listed below:
It is a simple way to manage and analyze patient medical data.
Blockchain may be used to eliminate security concerns and for online payments. Clinical research and medication development can potentially benefit from the usage of blockchain in healthcare.
It may be used to organize and keep track of documents, prevent the fabrication of findings, and store patient trial data.
Healthcare chatbots
Automated communications with patients can be provided during urgent situations thanks to this AI-powered solution. When combined with medical data such as symptoms, prescriptions, therapies, physicians, ailments, etc., these healthcare chatbots can save time. Such chatbots ask inquiries about the kind of injury and degree of discomfort; this information is also stored so that caregivers may follow up with patients.
Digital Health Records
The effectiveness of artificial intelligence helps medical professionals avoid wasting their important time! How is it possible, you must be asking yourself? Well, AI in the health industry automates a number of manual duties, including continuously examining the patient and documenting it. Additionally, it alerts authorities if there is any suspicious conduct that needs their prompt expert attention. This development in technology enables medical practitioners to concentrate on critically ill patients while reducing hazards.
GPS
GPS monitoring can assist their family, healthcare providers, or law enforcement agencies in quickly locating them in emergency circumstances, such as when elderly or senior citizens are away from home for an extended period of time. Technologies with components, like mobile alarm advantages, also enable these devices to use a hybrid strategy that enables others to locate the elderly even in locations where GPS is likely to be unavailable, like garage parking and so on. In an emergency, it can also aid by automatically contacting for assistance. When a firm needs emergency service, GPS becomes a must-have option.
Technology in Home Healthcare: Challenges
Technology influences home healthcare services in a beneficial way, but it also offers certain particular difficulties. The following are a few of the problems with technology in home healthcare: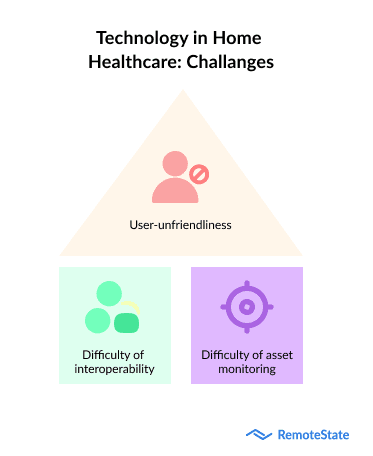 A. User-friendliness: Despite the fact that technology is continually advancing healthcare, it is useless if it is too difficult to use. Too much information and poor navigation are examples of user interface issues that detract from a positive user experience.
Solution: By assembling a competent group of healthcare developers, this problem may be solved. They will make sure that the user interface is intuitive and user-friendly. To improve the user experience, they may even incorporate a step-by-step navigation system for the app.
B. The difficulty of interoperability: Interoperability is the capacity of a system to obtain, transmit, and integrate data pertaining to a specific patient. When the appropriate EHRs are not available, tracking a patient's information becomes difficult.
Solution: By using cloud-based services, we can get around the issue of interoperability. EHRs that are hosted in the cloud will offer a centralized database in addition to being secure.
C. The difficulty of asset monitoring: Medical personnel frequently criticize the time-consuming nature of tracking medical histories and health records, which delays their work. Additionally, they become "slaves to EHRs" as a result.
Solution: EHRs are a necessary component of home health care, thus they cannot be ignored. Caretakers should receive thorough instructions on how to utilize the technology from the healthcare software provider so they don't waste their time.
Age demographics and home healthcare in harmony
The number of people seeking medical care at home has significantly increased in today's society. Twelve million individuals, on average, are thought to get healthcare at home.
Deloitte estimates that by 2022, the market for the Internet of Medical Things (IoMT) would be worth $158.1 billion.
The continually shifting age population is accelerating home healthcare technology's ongoing evolution. Investor interest in this area is being fueled by the usage of technology in the health sector.
In 2017, around 16% of Americans were 65 or older, according to Statista. By 2050, these numbers are projected to increase to 22%. Compared to 1950, when just 8% of the population was 65 or older, this is a huge growth. Now, in light of the facts, it's essential to provide home healthcare solutions that meet peoples' expectations and demands.
The data is clear, therefore if you're interested in developing healthcare applications, the time is now. We can assist you in making your healthcare system a digital health leader and in converting obstacles related to healthcare consumerism into opportunities.
Finishing up!
Healthcare at home is now changing the industry, but it may be benefited from if you make sure to work with a business that specializes in both healthcare software development and healthcare mobile app development. The technologies can be used more effectively in this way. To use medical technology as effectively as possible for patients, physicians, nurses, and other healthcare workers, we must believe in its advantages! Are you prepared to accept the new healthcare environment that is waiting for you?