We occasionally read or hear about ecommerce horror stories and disappointments in the news or on social media. Sometimes it's major, like when someone orders an iPhone and receives a brick in its place, but other times it's minor, like incorrect descriptions or the delivery of the wrong item.
The problems with e-commerce don't stop at this point. They can range from an absence of sufficient payment choices to a lengthy checkout process.
But why are we discussing e-commerce consumer pain concerns right now? According to predictions, 95% of purchases will be made online by 2024, thus companies should start identifying their e-commerce IT problems today.
In this blog, we'll examine a few of those recurring problems for e-commerce clients and their technological remedies.
E-Commerce consumer problems and their technologically based remedies
Despite the numerous customer pain points in e-commerce, as we will see, they can all be boiled down to one event: clients don't receive the desired experience from your platform.
Here are a few of the technical fixes for common e-commerce user pain concerns.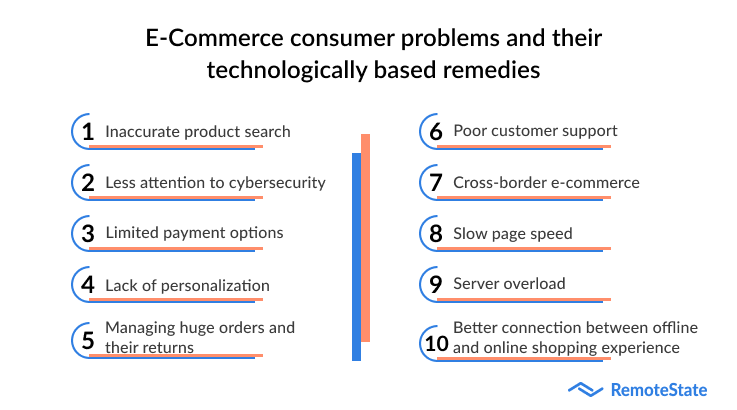 Inaccurate product search
Customers increasingly anticipate brands to be aware of their needs given the direction that digitization has taken, particularly concerning voice search, smart filtration, and classification. Customers want the platform to understand what they are searching for naturally, whether they are as general as a green vest or as particular as a lime green cardigan sweater, yet this ultimately leads to e-commerce pain problems.
Give your customers the option to search using various criteria when developing an e-commerce website or app, such as brand, regional language, lengthy descriptions, product purpose, product name, etc. The better results that the search engine returns for consumers depend on how intelligent the AI-based e-commerce solution you integrate is.
Less attention to cybersecurity
Data security is one of the key features that business owners want in e-commerce solutions. The secret to boosting sales volume is demonstrating that the website is secure to use. There are several ways to accomplish this on the front end, including adding security certificates and trust seals to the app's conversion pages, offering users the option of a money-back guarantee, or allowing them to sample before they buy.
However, the actual job is done in the background. The e-commerce technology app you select must-have features that are created with security in mind. For instance, a multi-factor authentication option should be available to make sure that the users of your app are who they claim to be.
Your chances of creating a hack-proof application will increase with the strength of your app's backend.
Limited payment options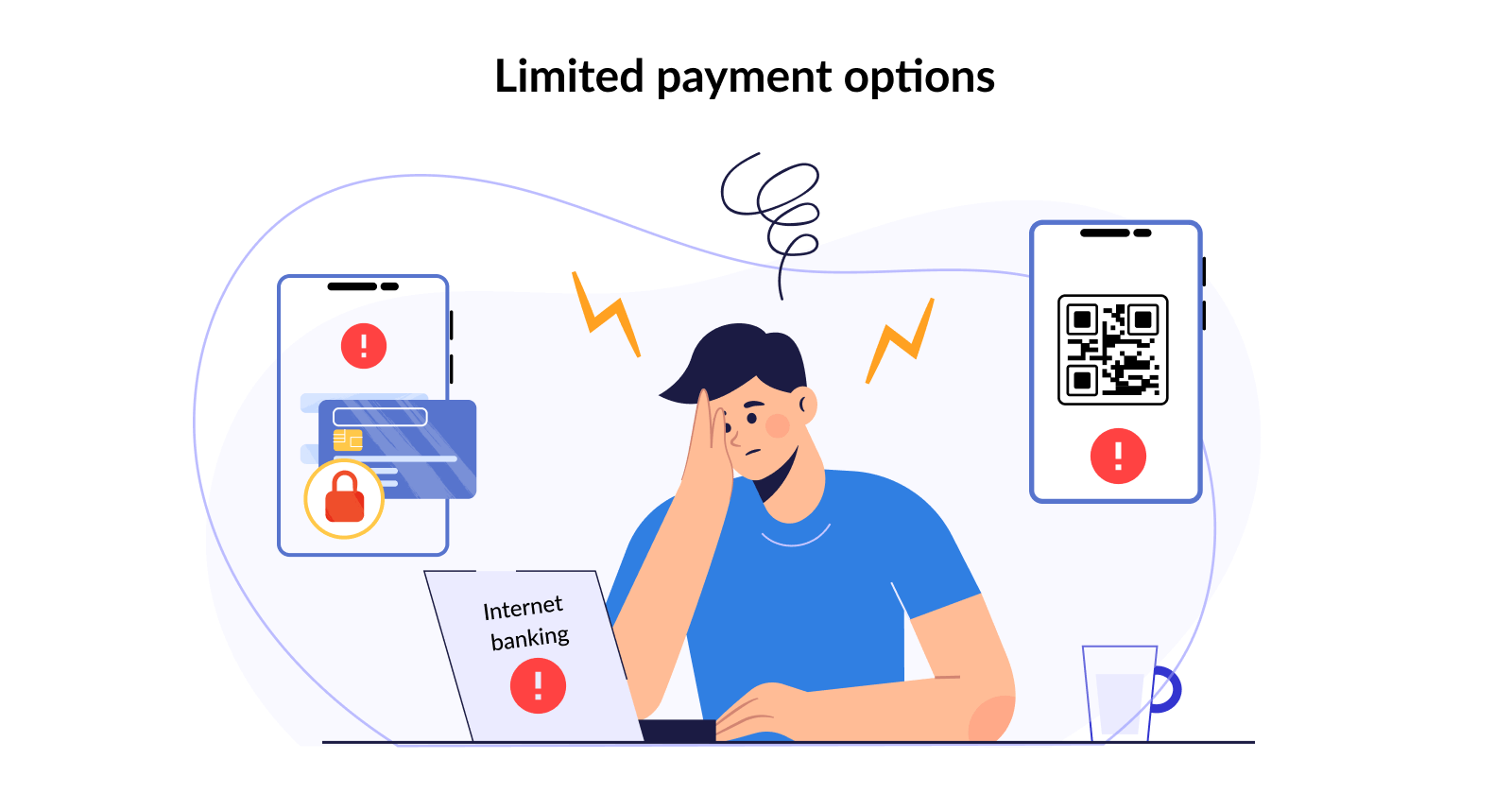 Customers demand a simple payment procedure when they shop online, and providing them with their preferred method of payment is an essential component of that. Understanding the payment methods your clients prefer is the appropriate strategy, but it's also often the most difficult.
Therefore, it would be a good idea to include the most widely used payment options, such as debit and credit cards, COD, PayPal, etc. Adding the Buy Now, Pay Later features to your list of e-commerce technologies gives your customers the option to pay later.
Lack of personalization
Personalizations are the secret to a great user experience in e-commerce. Remembering clients' names and dates of birth won't be sufficient with the way intelligent e-commerce systems have evolved.
It will be necessary to consider cutting-edge features to address e-commerce sticking points, such as developing a technical architecture that enables customers' purchasing journeys to be seamlessly aligned across devices and utilizing artificial intelligence to analyze customer journeys and where they left off to develop retargeting campaigns.
By demonstrating your genuine concern for your clients in all of these ways and more, you can give them a smooth and simple experience.
Managing huge orders and their returns
Receiving incorrect orders and having to return them is one of the most significant e-commerce users specific problems. Investing in an order management system is the answer to this.
One sort of e-commerce technology known as an order management system (OMS) keeps all the product information, controls inventory monitors, and provides after-sales care. In the end, the OMS provides full insight to both e-commerce businesses and customers regarding the location of their orders and the progress of their returns.
Poor customer support
Every day, there are more and more e-commerce platforms, making it more and more challenging for users to determine whether an app or website is reliable. They speak with customer service to find out this information. However, a sizable portion of the client base eventually feels uncomfortable and dissatisfied with chatbots' automatic responses.
The development of conversational chatbots powered by AI is the e-commerce solution to this. They are built to comprehend context, slang, errors, sarcasm, and even different languages. Better call traffic management, tailored interactions, and increased sales are the results of this.
Cross-border e-commerce
One of the biggest examples of an e-commerce customer pain factor is the challenge of making foreign purchases. Taxes, pricing differences, and shipping times are some of the factors that discourage people from making international purchases.
There are three ways that an online store can address these issues:
collaborating with a logistics company that handles the fulfillment of overseas orders.

Giving consumers real-time conversion analytics with automation powered by AI.

Integrating blockchain technology into e-commerce platforms to enable seamless cross-border transactions with total supply chain transparency.
Better connection between the offline and online shopping experience
e-commerce users frequently struggle with the problem of being unable to visualize how an item they saw online will seem to them in person. Because of this, they either decide not to make the purchase at all or visit the stores' physical location.
On this front, e-commerce clients' technology options can be split into two categories:
Incorporating AR and VR technologies into the app to enable customers to easily try on products while at home.

Using beacon technology to notify customers of discounts and offers through notifications when they are close to the actual store.
Slow page speed
Slow app loading speed is one of the main e-commerce customer pain points that causes cart abandonment and even app uninstalls. There are several ways to go about doing this: selecting a native program that performs well, optimizing the images and content, reducing the number of adverts, picking the best server and cache tool, or using a content delivery network.
Regardless of the user's network configuration, Remotestate uses a variety of techniques and tools to make the app and website load times as low as possible and nearly instantaneous.
Server overload
The server overload problem is one of the e-commerce pain points that affect both customers and business owners. Poorly designed e-commerce websites and apps are unable to handle high volumes of traffic and multiple payments, which causes lengthy checkout times and app breakdowns.
Building a solid website or app server design that prioritizes high concurrency is the e-commerce technological solution to this problem. It allows for high-volume traffic management and guarantees no hiccups or crashes as well as a smooth checkout procedure.
These e-commerce customers' technology pain concerns are merely surface-level ones. Other problems that a buyer may run across when shopping are numerous. The more often these little or significant problems arise, the better the function of technology in e-commerce is defined as a means of resolution.
While we only focused on the technologically solvable e-commerce user pain points in this blog, there are still several other financial and marketing-related issues that e-commerce businesses must address by making changes to their business models and staying up to date with their e-commerce app features.
How does Remotestate address E-Commerce problems?
As an e-commerce app development company, Remotestate has helped a lot of e-commerce brands take advantage of digitalization by assisting them in keeping up with current e-commerce technology trends.
In addition to assisting you in identifying some significant e-commerce client pain points unique to your brand, our team of e-commerce app developers also uses cutting-edge technology to address these issues.
To acquire technical support for your brand, contact us right now.