Nowadays, digital transformation is necessary across all sectors, including healthcare. Patients and doctors no longer need to endure daily consultation and treatment procedures that are time-consuming and laborious. This is because the delivery of healthcare has become more effective thanks to new digital programs. The COVID-19 pandemic has also illustrated the significance of cutting-edge technical solutions in addressing health issues.
In the upcoming years, it is anticipated that both digital solutions and healthcare software will become more widely used, highlighting the need for cutting-edge digital healthcare initiatives.
This blog will discuss the several types of healthcare software that are revolutionizing the market and can help your medical practice grow. So let's first comprehend a few advantages of healthcare software for the sector.
Healthcare software's purpose
Medical practice management software offers several benefits to customers wishing to progress their medical business goals, from redefining health management to drastically lowering the errors and mishaps that afflict healthcare offices and institutions.
The size and complexity of hospitals' activities both increase annually. Hospitals and other healthcare organizations are switching to specialized medical software, which is made to manage operational costs, optimize inventory stocking, and guarantee that crucial equipment is well-maintained and cared for, to successfully maintain and operate the expensive assets.
Additionally, to guarantee patient satisfaction, features like rapid access to treatment histories and medical records have become requirements. Technologies that promote a smooth and speedy process—ideal components for customer satisfaction—include automatic scheduling, combined communication networks, in-app reminders, and messaging.
Also, modern medical software allows for the remote monitoring of patients by doctors, allowing them to consult, examine, and diagnose patients without always leaving the office.
14 healthcare software that can help you grow your business
There are many different software programs, each of which aims to enhance a certain process. While some are geared toward patients, others are used for research, clinical management, and diagnostics.
The top 14 types of healthcare software will be discussed in this part, along with any potential advantages they may have for the sector.
EHR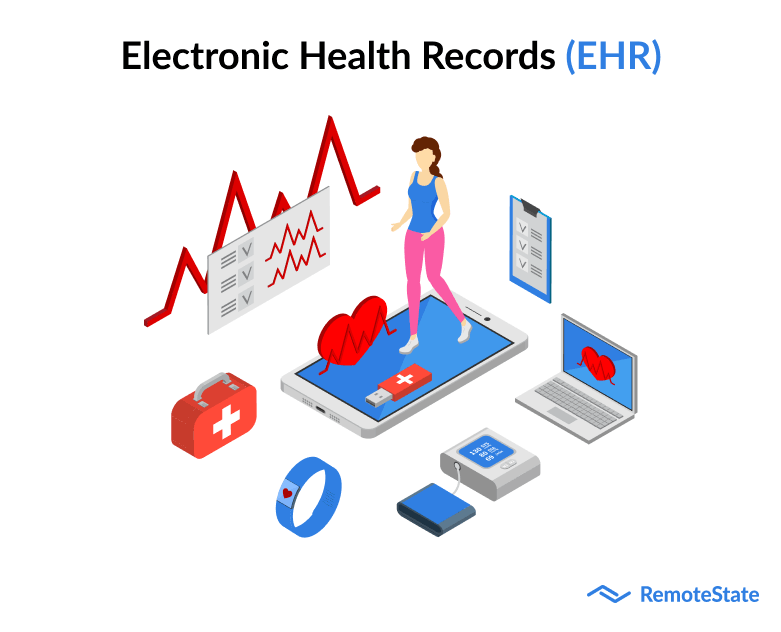 Electronic health records, or EHRs, are used to keep patient data electronically. Clinics and hospitals utilize it to keep a patient's complete medical history on file. Many countries are advancing their plans to make EHRs required.
These records provide a good, safe, and convenient way to store medical records when compared to paper records. Medical history cannot be lost when using electronic records. Because there is only one file that is altered over time, it also avoids the creation of duplicate medical records.
Both clinics and hospitals use electronic health records (EHR) software, which is frequently combined with hospital management software.
Telemedicine software
Professional healthcare providers can connect with patients remotely thanks to telemedicine. This program facilitates the online delivery of medical services. Today's telemedicine systems are essentially virtual clinics with the integration of several medical operations, such as diagnostics, appointment scheduling, and others, thanks to the quick development of technology.
Telehealth software
Telehealth software enables medical professionals to provide healthcare services, teaching or mentoring, and health information remotely. Telehealth software includes a larger range of medical services than telemedicine software, which focuses primarily on clinical services.
Medical professionals can interact and counsel people online on a preventive care topic, teach medical staff, or remotely monitor a patient's recovery after they are discharged from the hospital using telehealth software.
Medical equipment management
This kind of software aims to make maintaining medical equipment simpler. The systems can relieve hospital staff of a variety of manual duties involving medical equipment. Automated notifications can be used, for example, to track inventories of several disposable products.
Furthermore, when hospital infrastructure needs routine maintenance, such software makes correct timetabling easier. Software for managing medical equipment is frequently included in bigger packages for hospital management.
Health-tracking applications
These applications provide an extra source of health-related data, even if they are not directly connected to "professional" medical software. Fitness, diet, and well-being are the three areas into which healthcare apps normally fall, though some may combine elements of all three.
They are typically accompanied by wearable technology, which can measure vital signs like heart rate and the sleep quality or even serve as thermometers and glucometers to gather more accurate health information. The apps may be supported with more data if at some point they were to be synced with actual health records.
Hospital management software (HMS)
Administration, patients, and qualified healthcare professionals are just a few of the stakeholder groups in a hospital that can benefit from insights and management capabilities provided by hospital management software.
HMS frequently has two distinct portals, one for management-oriented functionality and another for patient-oriented functionality. All hospital-required management and health data, such as medicine and food management, room booking and scheduling, doctor itineraries, and scheduled visits, are included in the management panel. But, there are also utterly routine components like utility costs, laundry management, electricity and water usage, supply inventory, and so on.
An electronic patient application form, all admission information (typically synced with EMR software), patient payment information, insurance information, updates regarding admission, medical procedures, hospital visits, and all prescriptions are all included in the patient portal.
Software for medical diagnostics
Medical diagnosis software encompasses both patient- and physician-facing programs. Throughout the pandemic, both have been of the utmost assistance.
By sharing anonymized patient records, clinicians can work together to find a diagnosis using physician-facing medical diagnostic tools. Artificial intelligence is sometimes used to gather data and offer prospective diagnoses, which helps with this.
To record their symptoms and determine whether they need to take any medical action, such as making an appointment with a healthcare provider, patients can utilize medical diagnosis apps. As a result, the burden of healthcare professionals during the epidemic has decreased.
Software for medical imaging
Medical imaging software interprets CT, MRI, and PET scans and can be used to produce 3D visualizations that are pertinent to a certain treatment. For instance, before performing procedures, surgeons evaluate a 3D model of a specific patient from an MRI scan.
Medical equipment like implants and prosthetic limbs are printed and designed using software for medical imaging. This will probably become a more significant application for medical imaging software as 3D printing spreads and becomes more sophisticated.
Healthcare billing software
Software for medical billing is another name for it. This piece of software streamlines the billing procedure for the healthcare industry.
Billing software, in general, simplifies the billing process, including billing to the patient, the patient's insurance company, and other parties involved. All of the patients' medical expenses can be easily accessible and organized using billing software. Also, it helps the healthcare facility's financial operations to run more smoothly. They are still qualified as stand-alone systems even though they have been integrated into hospital and practice management systems.
The essential elements of a healthcare billing software application are as follows:
Rate increases and ease of reimbursement

Maintaining the healthcare organization's financial stability

Income optimization

Monitoring and automating cash flow
E-Prescribing software
Medical prescriptions are being changed to digital format gradually but surely. The ease of modifying or extending a prescription with a few clicks is the primary driver. Because e-prescribing software substantially streamlines the prescribing process, e-prescriptions benefit both patients and physicians. A prescription can be granted, renewed, or suspended in just a few minutes thanks to this type of medical business software. It won't be long before e-prescribing is accepted as the norm in the world's healthcare industry.
Medical research software
Every healthcare facility is continually learning new healthcare experiences based on exceptional cases: every patient is different, even though they have similar-looking symptoms. Software for medical research aims to communicate such an experience. Like any other applied science, healthcare is constantly undertaking research to educate medical students and improve doctors' credentials.
Although one of the digital world's most narrowly focused programming products is medical research software, its significance cannot be overstated: Medical research software is often necessary for correct diagnosis and, consequently, for treating patients in the right way.
Pharmacy management software
Drug inventory control, monitoring, and pharmaceutical product flow are all improved by pharmacy management software.
In-depth pharmacy management software aids in managing prices, ensuring that prescriptions are matched with the appropriate drugs and dosages, automating claims processing, and organizing gains for a customer's insurance.
The ability to distribute workflow tasks among various systems, such as automated prescription vending machines, and to grant pharmacy staff access to prescription information throughout the pharmacy or around a health system's channel are two major advantages of pharmacy software that runs on an integrated platform.
Medical database software
This software, like any other database, contains data on various medical conditions. Medical database software records and saves a wider variety of healthcare data, in stark contrast to electronic health records, which only contain patient data. In addition to case studies and treatment strategies, medical databases often include frequently updated information about diseases that might be useful to clinicians in their practice.
Patient management software
It is also known as clinic management software and patient management software. Healthcare facilities like hospitals or clinics describe several efficient automated systems that maintain tabs on patient information, diagnosis, interactions, prescriptions, and encounters.
To increase patient satisfaction and revenue, healthcare facilities must use patient management software. By combining administrative systems with medical data, cloud-based patient management software optimizes processes. It is straightforward to do activities like medical billing, inventory management, appointment scheduling, lab testing, and more with patient management software.
Software used in the healthcare sector with unique features
No industry is more aware than the healthcare sector that time is of the essence. Doctors and other healthcare workers deal with illnesses and urgent situations every day that need to be dealt with as soon as possible.
By automating routine or challenging processes, the features of the healthcare management software outlined below can help you save time: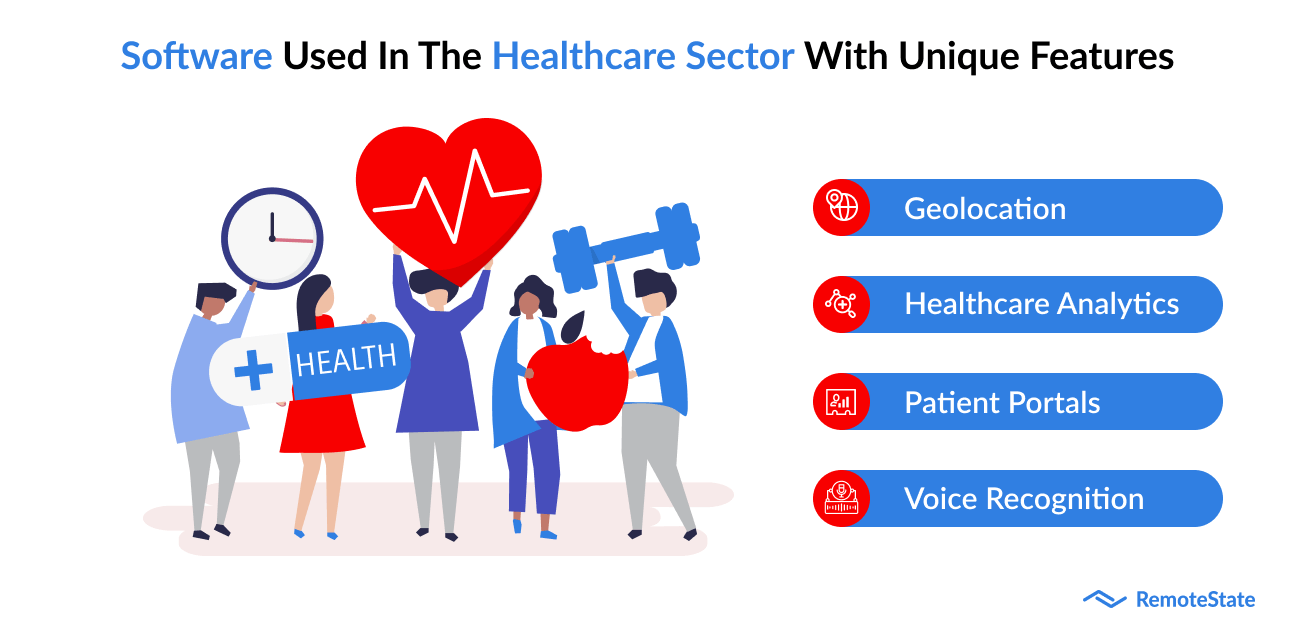 Geolocation
The United States' current medical rules demand the use of a telemedicine platform to link patients with practitioners in the same state. When a patient's location is known, the program can find pharmacies nearby, provide driving instructions, and assess how long it will take to travel to the hospital in an emergency. Finding the relevant department is simpler for patients when hospital maps and photos are available.
Healthcare analytics
Information is undoubtedly potent when it comes to healthcare analytics. No modern hospital or practice should be without healthcare analytics, a potent aspect of healthcare management software.
Big data and sophisticated computation are used in healthcare analytics to compile, correlate, and review pertinent patient data. The data is translated into insightful statistics that will help your team organize the commercial and financial parts of your company.
Patient portals
Medical institutions need to appreciate the benefits of a patient information transparency portal. Having such a system in place may increase customer satisfaction with their entire range of services.
Voice recognition
Voice recognition is a much more practical way of entering data than the traditional methods of writing down notes and having an assistant type them into the patient's medical record, or having the doctor read notes to be recorded by a third-party transcription team.
The practitioner can enter data using a variety of spoken commands thanks to voice recognition. Voice recognition increases practice efficiency by minimizing mistakes brought on by sloppy handwriting. Also, you can save time by not having to wait for the transcribing provider to return your work.
With the assistance of Remotestate's healthcare software development services, grow your medical business to new heights.
The healthcare industry is fully integrating digital transformation into healthcare operations and processes with the help of specially created healthcare software. With competitive healthcare software development services from Remotestate, a provider of personalized healthcare software solutions, you can see the future of the sector.
We are prepared to create software of any complexity or improve currently available healthcare applications. Our talented team creates the greatest healthcare management software so that our clients may dominate their markets, improve the standard of care, increase patient happiness, and streamline internal processes.
By collaborating with us, you can be sure that we will give your healthcare software our full attention and increase its utility with a variety of high-performance tools and components.