Top executives at healthcare facilities are looking at ways to restructure their supply chain management in order to be more cost-effective and operationally efficient. As hospitals and healthcare systems gradually adapt to life after the pandemic, they seek to do so while enhancing patient care.
An efficient healthcare supply chain is necessary to save patients' lives. A significant step in the right path to boosting that efficiency is also the adoption of technology.
The fact that hospitals are using technology more than ever, from patient portals to electronic health records, is not surprising in light of that (EHRs). It may surprise some people, though, that hospitals haven't fully embraced technology in one area: inventory management, sometimes known as supply chain management (SCM).
The fact that supply chain costs are usually among the highest for hospitals and healthcare systems makes sense. According to Navigant Consulting's analysis, hospitals could save an average of $11 million per hospital annually by automating and standardizing their supply chain processes.
The transformation of a conventional supply chain to a digital supply chain has long-term advantages for healthcare businesses. With the advent of digital healthcare, everyone now has access to healthcare that is quicker, safer, more convenient, and more reasonably priced. In addition, hospital systems can reduce operating expenses and spot growth opportunities as a result of the healthcare supply chain's digitization.
In this blog, we'll go through the main components of a healthcare supply chain and explain why using technology can boost the effectiveness of current healthcare supply chains. We'll examine the ways in which technology can support the growth of the supply chain as well as the procedures for integrating it successfully. Let's start.
What does the healthcare industry's supply chain mean?
The healthcare industry's intricate web of systems, components, and processes known as the supply chain ensures the manufacturing, distribution, and delivery of pharmaceuticals and other healthcare supplies to patients.
This complex global system has been set up with many built-in protections to ensure that medications and other medical supplies are produced and distributed promptly, even during pandemics or natural disasters.
The most crucial of these defences is the supply chain's capacity to foresee, prepare for, and react to likely interruptions in one or more chain connections over a diverse, previously established worldwide network.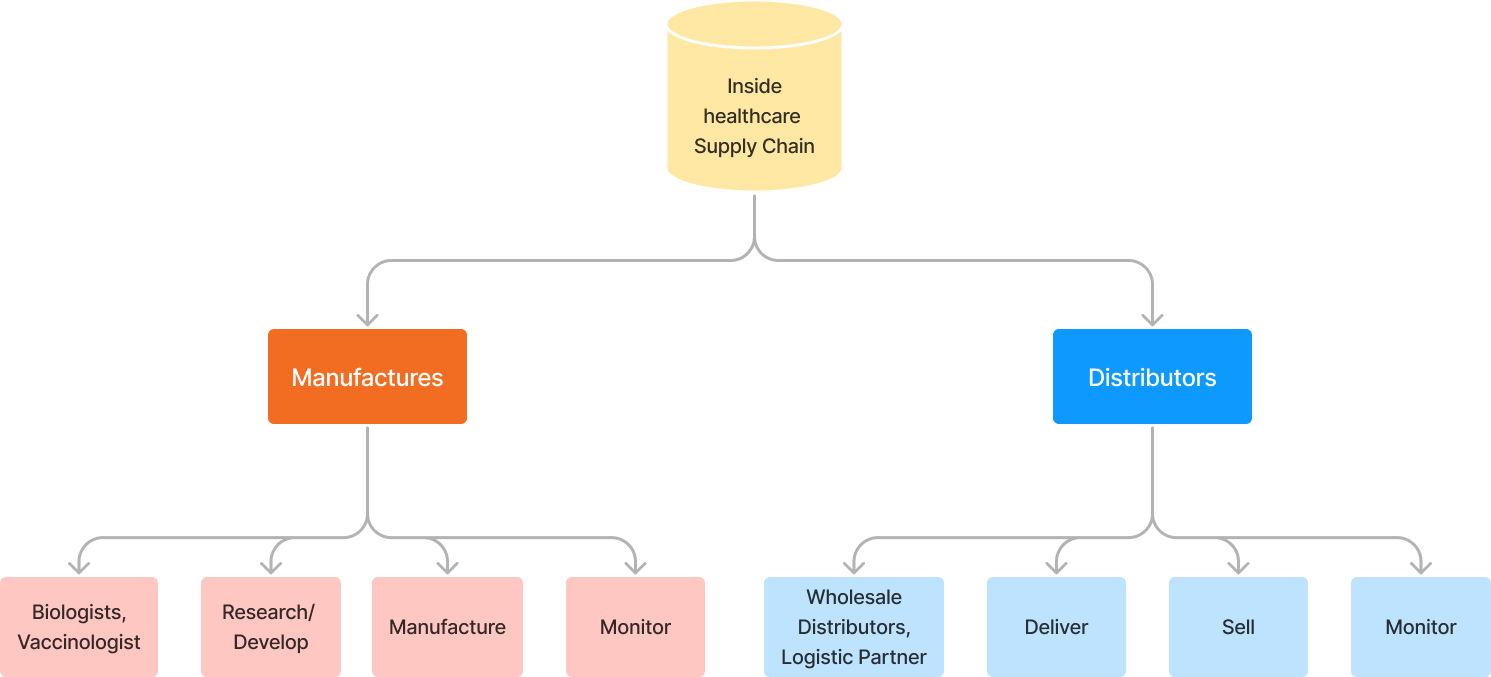 The pharmaceuticals and medical equipment that make up the first link in the supply chain in hospitals are produced by manufacturers, on whom we rely. From the manufacturing facility to wholesalers and, in some cases, directly to a pharmacy or hospital, manufacturers manage the flow of their products. The distributor is the second component of the healthcare supply chain.
When it comes to the distribution of medical goods, distributors meticulously maintain huge stocks in key locations throughout the region by purchasing prescription drugs and other healthcare supplies from manufacturers in large numbers. Some wholesalers concentrate their efforts on providing a certain consumer, like nursing homes, or a specific product category, such as biologics.
What does healthcare supply chain management mean?
The technique of purchasing and distributing medical supplies and services as they are delivered from the loading port to the patient is known as supply chain management in the healthcare industry.
"Supply chain is essentially the management of upstream and downstream linkages between suppliers and customers to give more customer value at less cost to the supply chain as a whole," says James Spann, Practice Leader of Supply Chain & Logistics at Simpler Healthcare.
It can be challenging to manage the healthcare supply chain. Inadequate data reporting, poor product homogeneity, expanding regulatory requirements, and a general lack of automation only serve to worsen the problems.
Although there are many challenges in supply chain management, the main issues are theft, an unjustified increase in inventory costs based on demand, hoarding of goods, desire for specific products that are in stock, product expirations, out-of-stock issues that may result in high delivery costs, and product hoarding. Supply expenses that go over budget are a result of these and other issues.
Healthcare Supply Management's Function
In the healthcare sector, the supply chain's function is to pinpoint departmental risks and offer mitigation strategies. It increases financial assistance for international health and attempts to identify problem areas in order to achieve desired health outcomes.
The advantages of a strong supply chain in the healthcare sector include improved operations, effective resource use, happy employees, successful patient care, and satisfied patients.
The correct integration of hospital departments, operations, and the revenue cycle is made possible through supply management in healthcare. A backend application that is crucial for combining all the different processes is the supply chain.
Hospital supply chain management enhances patient care by reducing inventory waste, ensuring that medications and other products are available when needed, and coordinating efforts throughout all departments to lower human and pharmaceutical errors.
This can be accomplished through a variety of steps, including the incorporation of technology that support supply chain digitization, the integration of digital subsystems, and process optimization.
How important is technology to the supply chain for healthcare?
The adoption of innovative, disruptive technologies into supply chain management systems, such as data analytics, AI (artificial intelligence), IoT, and Blockchain, encourages effective operations, improved security, and quick expansion of the global healthcare industry.
The global healthcare supply chain market is expected to increase from $2.2 billion in 2020 to $3.3 billion in 2025, according to Markets & Markets. Key factors promoting this expansion include the creation of cloud-based solutions, decreased operating costs, improved efficiency, and general profitability. The extensive application of SCM, especially in the healthcare industry, is proving to be very beneficial for people's lives.
How might healthcare supply chain solutions be transformed by emerging technologies?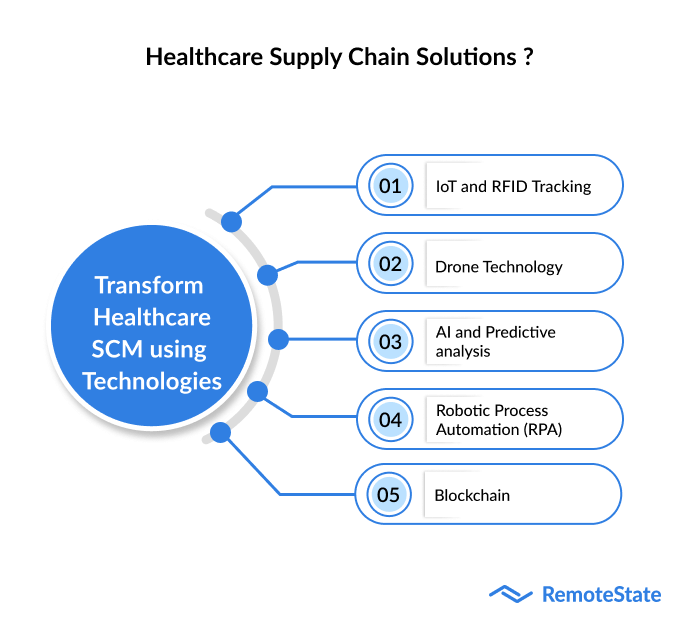 If practitioners encounter unanticipated shortages while giving care, the outcomes could be fatal or significantly impact a patient's life. Fortunately, technological developments can result in a better, more shock-resistant supply chain in hospitals. Here are some of the ways that some of today's most cutting-edge technology can lead us to a stronger distribution of medical supplies and a more effective digital healthcare system.
Blockchain-based visibility improvement
Cryptocurrencies and blockchain are frequently used synonymously. Even though it is where the digital ledger technology started, it has much more potential. The blockchain, for instance, can facilitate knowledge exchange regarding medical supplies and other essential commodities that support healthcare organisations.
In order to adapt to changing needs, the circular economy aims to eliminate waste and repurpose resources. A recent research investigates how the blockchain might assist with this strategy. For instance, the authors described how distilleries moved to producing hand sanitizer when the COVID-19 outbreak started, and those with extra fabric used it to create face masks for important staff.
The new techniques that use blockchain technology to track a medicine's whole history, even down to a single dose, are the most successful. Organizations are currently working on a variety of cutting-edge blockchain-based solutions to give a way to track goods securely and dependably throughout their full lifecycle.
Blockchain is crucial to supply chain transformation because it reduces fraud and makes it possible for pharmaceutical production and distribution to be better managed in terms of quality. Pharmaceutical companies like Roche and Pfizer have already started working on such solutions.
AI and predictive analysis
Thanks to artificial intelligence (AI), the way that data is managed, processed, and used across all industries has undergone a fundamental revolution. Because of advancements in AI, businesses now use predictive analytics rather than the simpler descriptive type. Predictive analytics makes it simpler to track trends and gauge the likelihood of upcoming events.
The supply chain in hospitals and elsewhere can be managed by healthcare companies using predictive analysis to reduce variance and learn more about demand trends and supply utilisation. Data-driven, accurate forecasting makes it easier to optimise inventories and supports more informed choices.
RFID and IoT tracking
A straightforward task like discovering an asset could cost the employees many hours of productive time. It might be both more affordable and quicker to use IoT-capable gadgets with hospital supply chain software and RFID (Radio-frequency Identification) tracking systems.
A real-time location system can be used to locate, track, and keep an eye on the assets (RLTS). Automated inventory tracking delivers total system knowledge in addition to streamlining the healthcare supply chain.
Robotic Process Automation (RPA)
The implementation of an RPA system eliminates the labor-intensive, repetitive, and manual procedures in a healthcare supply chain. It typically reduces the time and money spent on a supply chain and eliminates the possibility of human error.
Automating routine chores increases productivity and reduces costs. Utilizing RPA-deployed devices to update a warehouse increases productivity and maximises income.
Drone technology
Drone technology can give businesses an advantage when it comes to promptly and effectively delivering medicines, vaccinations, medical kits, and other supplies. Drones can assist with difficult deliveries by acting as flexible courier machinery.
It can also be used to transport blood or blood samples to the intended recipient at the designated location when that is essential. Additionally, hospitals can install small indoor drones that can be used to deliver drugs to patients right at their bedsides.
Automation of the Healthcare Supply Chain
Supply chain software simplifies and automates typical manual operations used by healthcare organisations with the simple goal of enhancing the supply chain process.
The potential to streamline inventory, decrease waste, enable quick, data-based choices, and save labour, supply, and operating costs is just one of the many benefits of software automation. These factors make working with supply chain software development companies like RemoteState increasingly important.
When it comes to SCM technology solutions for medical supply inventory management, there are typically two types available to decision-makers.
The first alternative is Enterprise Resource Planning (ERP) systems, but because they are used in so many different industries and the vendors usually lack extensive healthcare understanding, they are not always the best solution for hospitals.
ERP systems may take longer to construct and require specialist customising skills because they are frequently adopted by larger, non-healthcare-related organisations. As a result, they may be rigid systems that healthcare personnel must adjust to rather than ones that adapt to their workflows.
The second kind, known as speciality healthcare inventory and supply chain solutions, usually costs less and combines more in-depth industry knowledge, resulting in flexible, healthcare-focused solutions. Systems of this type usually focus on certain disciplines, like as surgery, interventional medicine, and other areas of healthcare.
Digital Healthcare Gives You an Advantage
Supply chain digitization enables cost-effective delivery of the optimum product to the right patient at the right time for healthcare providers.
Healthcare providers will be better positioned to benefit from technological developments made to improve data flow, analytics, provider-patient interaction, asset monitoring, and regulatory compliance by developing a digital supply chain. The future of healthcare is digital.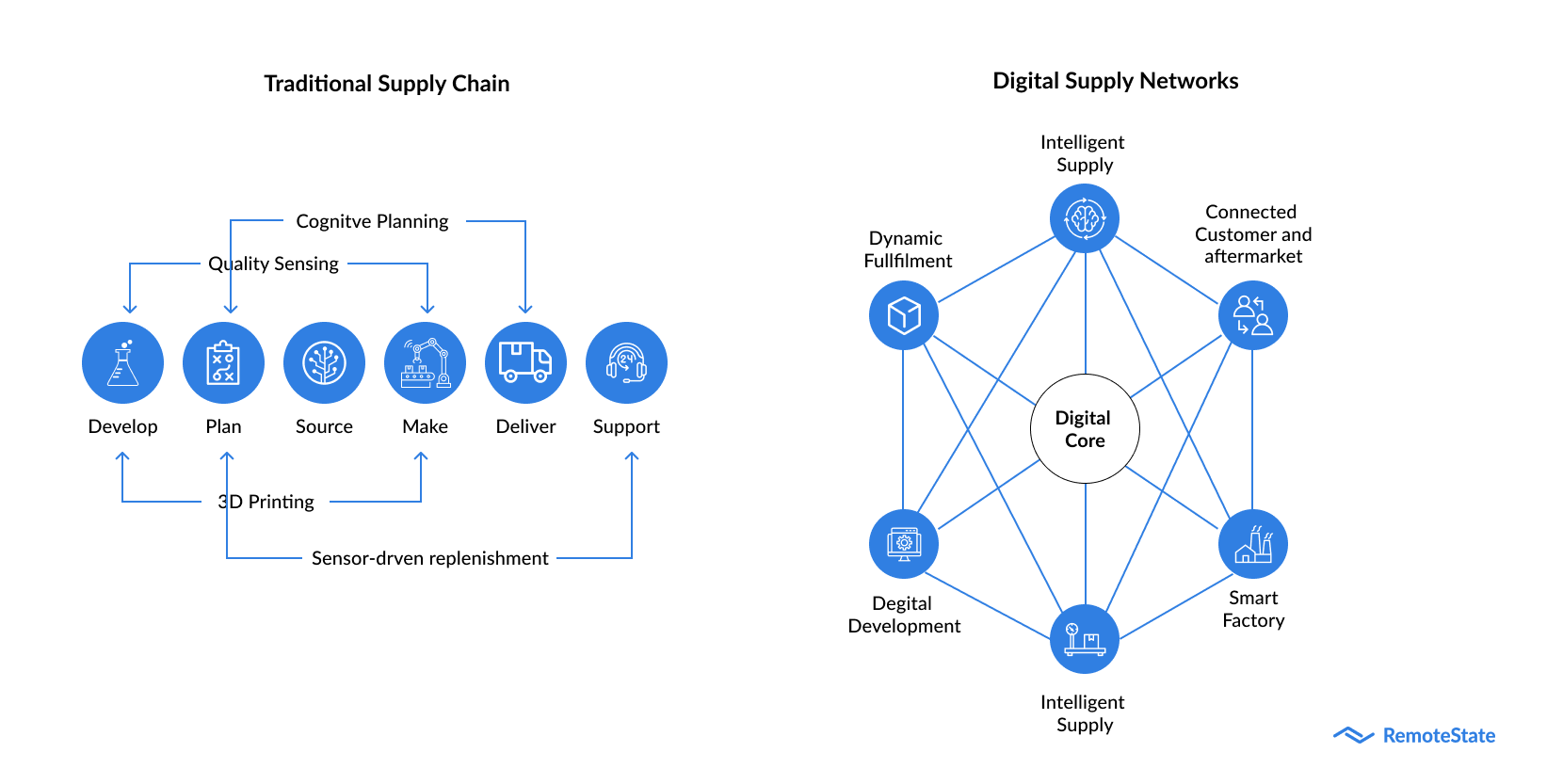 Why is the importance of digital supply chain is increasing?
Healthcare firms are being compelled to consider developing digital supply chains by the following problems:
cost cutting
As the focus in the healthcare sector shifts from volume to value, providers are being forced to find new strategies for resource management and cost containment. The healthcare reform, as well as price increases and declining profit margins, are the causes of these modifications to payment arrangements.
Enhancing patient interaction, care, and service
Hospitals may save money by operating a profitable digital supply chain, and they can increase patient happiness and engagement by reallocating staff time to patient care, reducing wait times, and fewer canceled appointments.
Eliminating unjustified variation
Hospitals may free up staff time for higher-value work by automating regular processes while reducing the possibility of unfavourable outcomes brought on by error and variability.
Organizing and monitoring flu medicine with data
A more accurate picture of the location of medicine doses in the supply chain is provided to the hospital by using real-time data to forecast seasonal demand for anti-influenza treatments. When there is a shortage, it enables the hospital to move supplies to the regions that are most in need while ensuring that the right supplies are available for the right patient at the right time.
Increasing the transparency of the inventory
By implementing cutting-edge technologies like radio frequency identification (RFID) and supply chain digitization at the point of use, healthcare providers and suppliers can improve visibility over consignment inventory at the patient's bedside and change the movement of inventories in real-time to locations experiencing shortages.
Blockchain resource tracking throughout the care spectrum
Blockchain's immutability opens the door for product traceability from raw material suppliers to manufacturers to healthcare professionals to consumers, and it may aid investigations into how opioids get into the wrong hands.
The major changes in the healthcare sector over the next few years will be supply chain digitalization and digital healthcare.
Guidelines for Successful Technology Integration into Healthcare Supply Chains
To successfully integrate the appropriate technology in the supply chain management for healthcare, the following four phases are essential:
Alignment
Given the multiplicity of components and moving pieces in the procedure, it is crucial to first pull your company's stakeholders together by articulating a vision of success aimed toward long-term value.
Major modifications to procedures and job descriptions will frequently be required as a result of this change. To ensure the success of the digital supply chain transformation, it is crucial to ensure that everyone is aware of the underlying strategy, plan, and goal.
Assessment
A full review necessitates a careful examination of the procedures, personnel, and technology even if the majority of hospitals and health systems have a general idea of where their supply chain operations stand.
With the end result in mind, this should be carried out with a special attention to transformation and optimization. A detailed understanding of supply chain staffing and the current operational structure allows for the development of more accurate strategies, the ability to make adjustments more rapidly, and the ability to implement them more quickly.
Analysis
The solutions you discover help you construct a comprehensive value proposition that replicates a scalable and sustainable future state once you've aligned and carefully studied every component of the digital supply chain.
Analyze the already available data and map the supply chain activities to identify areas where each process, group of people, and piece of technology may be improved. As a result, you might create an upcoming data-driven business case that will act as a guide for specific improvements and changes.
Planning
To make the value offer a reality, develop a comprehensive plan that links important organisational goals to both short- and long-term operational activities. It is feasible to identify short-term investments and develop a long-term transformation road map by studying processes and data.
What role may RemoteState play in assisting with the use of technology in healthcare supply chains?
A rapidly expanding IT consulting company, Appinventiv takes pleasure in employing cutting-edge technologies to successfully deliver projects. We provide unique services that go above and beyond what our clients expect, including supply chain software development.
As a rapidly expanding software development company, we provide software development for companies of all sizes and in all industry sectors. We have approximately ten years of experience and a strong clientele. We also provide excellent software development services for the healthcare industry.
We excel in developing healthcare supply chain management software for clients who are eager to implement supply chain digitization. Get in contact with our experts right away.