Organizations frequently use a warehouse management system (WMS), a form of software, to manage and supervise warehouse operations from the point at which products or materials enter the warehouse until they leave. A WMS essentially aids in the optimization of every warehouse operation you carry out.
Because it keeps track of all the supplies in your warehouse and develops methods to organize how employees pick products and process orders, a WMS system is crucial. It enables you to keep track of goods as they enter the warehouse, are loaded onto shelves and placed in various places, and depart the warehouse to fulfill orders.
Additionally, a WMS offers visibility into an organization's inventory at any time and place, including while it is in transit at a facility.
We will delve further into the advantages of warehouse management systems for your business in this article today. We'll talk about several WMS later on to increase efficiency in the warehouse.
So let's get started without further ado!
Why should your company utilize warehouse management systems?
You can expedite order fulfilment and keep track of what is selling well with the use of a warehouse management system. Additionally, you may keep track of raw materials as they arrive and ensure that they are placed correctly for storage and manufacturing.
Let's go into more detail about the main advantages of a warehouse management system and why they matter for your company.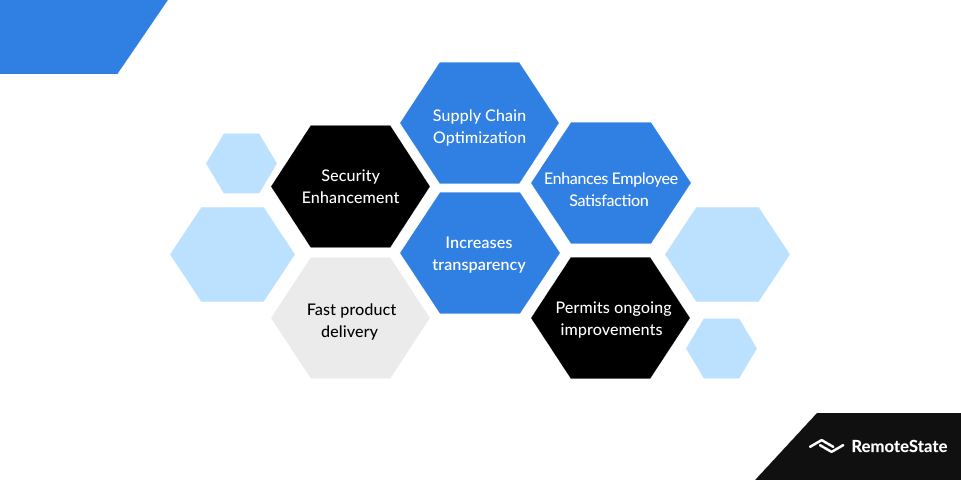 Provides current inventory information
The data from a warehouse management system provides workers with access to inventory information whenever they need it. From the time an item enters the warehouse until it leaves, a WMS system can read serial codes and maintain track of each one. In turn, this quickens the outward delivery procedure.
The workload of enterprises can be decreased with a warehouse management system. For instance, to keep an accurate inventory of its products, Magid Glove & Safety uses a warehouse management system.
The organisation may avoid a physical inventory every year because of the real-time cycle counting capabilities of the WMS, which also provides information on the amount of stock in each location.
Lowers operating costs
Operating costs are significantly decreased, which is one of the main advantages of warehouse and inventory management systems. It assists in determining the most efficient use of both labour and space, reducing waste. With the aid of a WMS system, businesses may decide where to store particular goods, supplies, and machinery in order to improve warehouse flow.
Some cutting-edge warehouse management systems offer floor simulators that let users design possible floor plans directly within the system. They can arrange shelves, pallets, and other items as needed in the warehouse using these simulators.
Additionally, a warehouse management system offers improved inventory visibility. Due to the lack of storage requirements, this lowers just-in-time inventory for organisations and contributes to cost savings. A WMS can also cut waste by enforcing a first-in, first-out rule that ensures perishables that are the oldest are removed first.
For instance, to streamline their business operations, Nature's Best, one of the top brands in the distribution of health and natural foods, integrated a warehouse management system. With the new approach, productivity more than doubled and labour expenses were lowered by nearly 30%.
Accurate management of the bill
For this feature, warehouse management solutions include built-in or third-party integrated billing management tools. With the help of this functionality, you can track all supplier-related activities and produce the appropriate payments using activity-based billing.
A warehouse management system may also connect to important e-Commerce platforms and process credit card payments.
Enhances demand projections
A warehouse management system can give a business insight into potential future demand. A WMS can improve inventory visibility, which can improve a company's ability to estimate demand.
A WMS can also gather information on the present outgoing and inbound movement of items, as well as historical trends for a prediction. Warehouse workers can maintain ideal inventory levels when they have precise information on demand projections.
For instance, the automotive manufacturer Renault has a warehouse management system installed in its Seville production facility (Spain). With WMS in place, the business operates all internal operations and processes without a hitch and has access to real-time inventory data, which enables precise demand forecasting.
Allows for ongoing development
Systems for warehouse management allow a business to continuously develop. Vendors of warehouse management software often release new features to reflect the most recent industry best practises. On the basis of these advances, firms are able to continuously enhance their operations by staying abreast of new developments.
Additionally, a cloud-based warehouse management system can update immediately, reducing the need for big, expensive IT teams. However, depending on the terms of their contract, companies using an on-premise system may or may not get regular updates from their vendors. For this reason, a lot of businesses are now switching to the cloud.
Delivers products more quickly
There is no doubting that today's consumers want and demand quick product delivery. Additionally, quick warehouse distribution is necessary for this to occur. The shipping procedure is accelerated by integrating a warehouse management system. This implies that your clients receive their orders more quickly and are more inclined to use your website or mobile app again.
Such management systems speed up the processing considerably. This is so that pickers can find the item easily. A WMS system use automation to locate, track, and distribute products more quickly. Additionally, it saves time because all the information is now updated automatically rather than using a sluggish system.
For example, Decathlon uses a warehouse management system to prep and ship out 3,000 orders a day for online users and around 55,000 items for all their physical shopfronts in the UK.
Enhances security
The majority of warehouse management systems demand that employees enter transactions using individual user accounts. This will establish an audit trail linking particular employees to particular transactions, lowering the possibility of theft and enhancing responsibility. Employers can also use it to find new training opportunities and other ways to enhance employee behaviour.
User-based access levels also shield some data and reports from unwanted access. Each user is only given access to the data that is necessary for their job. You won't need to worry as much about corporate secrets or losing your competitive advantage in this method.
Boosts transparency
Transparency is one of the main advantages that warehousing and inventory management solutions offer. All employees may see every step of procedures like shipping, order fulfilment, and tracking in full transparency.
The personnel may access real-time data and provide their clients with precise and accurate information because to this transparency.
Optimizes supply chain
A warehouse management system's ability to optimize a warehouse's internal operations has a ripple effect on the wider supply chain. The entire warehouse process, including incoming receipts and outgoing deliveries, is streamlined by a WMS, which lowers costs and boosts operational effectiveness.
By removing or cutting back on pointless or unproductive activities, warehouse personnel can transport packages accurately and more quickly. Internal and external partners can benefit from these cost and time savings as well as enhanced processes by passing them along to their own business operations.
The shipping time is also shortened with improved inbound receiving. In turn, this helps shippers manage inventory levels and delivery partners make better use of their tools and resources.
As a result of such great inventory visibility and supply chain optimization, both supplier and customer relationships are strengthened. Customers benefit from shorter delivery lead times, fewer order errors, and improved order fulfillment while suppliers enjoy shorter wait times at docks and loading bays. With such mechanisms in place, your company's standing among clients and suppliers likewise rises.
Improves employee morale
A warehouse management system can improve working conditions and staff happiness.
Automating manual, repetitive operations in the warehouse with a WMS can boost staff morale. Because they can utilise their time more effectively, automation has the potential to increase employee satisfaction.
Even though a WMS system can't resolve every issue in your workforce, it may greatly reduce management's and employees' unhappiness. Your staff may take a time to consider their actions before utilising dubious equipment or attempting an incorrect lift in a more orderly and stress-free work environment.
All of this contributes to a safer, more engaged, and content staff, which further boosts the general performance of your company.
It's time to delve into the several warehouse management systems you can choose from to optimise your warehouse operations now that we've seen the main advantages of warehouse management for businesses and how it can advance your company.
Warehouse Management System types:
Businesses deploy four primary types of warehouse management systems to improve operational effectiveness and streamline their warehouse operations. Although these systems share a lot of functionality, their distribution methods set them apart.
It's critical to initially comprehend the distinct varieties in order to select the best management system for your company's requirements. Let's examine each of them in more detail.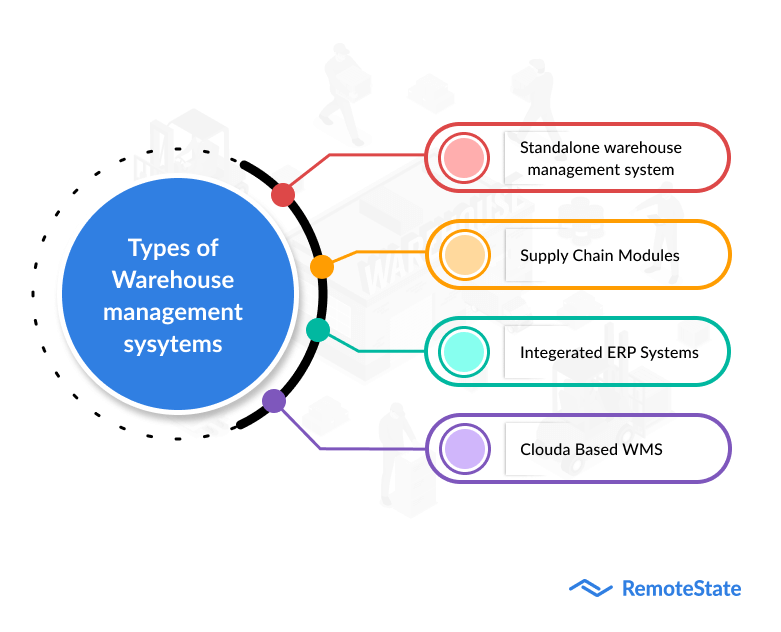 Standalone warehouse management system
The simplest systems are standalone ones, which are only employed for their capabilities in warehouse management. These systems are only offered with the greatest and most crucial WMS module features, like inventory management and warehouse operations, and are sold without any further supply chain functions.
Independent warehouse management systems are especially useful for smaller businesses without a strong manufacturing component, like third-party logistics organisations.
Modules of Supply chain
Among supply chain management's subcategories is warehouse management (SCM). SCM software is useful for managing a wide range of tasks, including vendor relationships, risk assessment, and business processes. It is primarily concerned with automating processes like product cycles, inventory control, and material sourcing.
While standalone solutions only cover warehousing and inventory management functions, the supply chain management warehouse platform offers holistic administration of the entire supply chain. It's critical to reduce overlaps within your present programme if you choose this solution.
You might, for instance, combine software for inventory management, warehouse management, and fleet management into an unified supply chain management warehouse platform if you already use those solutions. Choosing SCM software that is simple to link with other corporate applications like ERP or payroll software is another strategy to prevent overlap.
Integrated ERP systems
One of the finest solutions for companies trying to enhance warehouse operations is the enterprise resource planning (ERP) module. It is a great option for 3PL companies wishing to structure their customer relationship management, accounting, and HR platforms.
ERP is a specialised technology that provides scalable execution of supply chains. Although warehouse management tools may be available through these systems, this is not an essential part of ERP. If you're considering to purchase ERP software, keep this in mind.
ERP may unify your activities into a single interface and replace a variety of other software programmes. ERP can be the best choice for you if you're currently dissatisfied with the software solutions you use or wish to combine them into a single system.
Cloud-based WMS
Unquestionably, the ideal choice is a cloud-based platform for increased convenience and quicker integration. There are many advantages that cloud technology offers warehouses, including reduced IT maintenance, increased security, and lower costs.
The management and integration of the WMS are considerably simpler and more inexpensive with cloud-based systems because they are hosted on a server and system that are external to the firm.
A cloud-based WMS has greater data security protocols because it is housed on a separate or private server. Businesses who manage high-value goods or those that just want additional security in their WMS should be especially concerned about this.
Regardless of volume, operational scale, or complexity, this kind of technology can increase business productivity.
Additionally, cloud computing offers free automatic software updates, which helps companies save costs and maintain technical competitiveness.
Conclusion
You can boost your warehouse operations' efficiency, speed, and order accuracy with the appropriate WMS. In the end, this will save operating expenses while boosting customer happiness and helping your business become more competitive.
Contact a reputable software development company like RemoteState if you want to integrate a warehouse management system into your organization. The highly qualified team of experts will take care of all your requirements and assist you in setting up the automated warehouse management software for your company. So, reach out. We will be happy to assist you.