The relationship that is developing between Millennials and the fintech industry is expected to be very strong. The domain is in the midst of a full overhaul due to the digitally oriented focus that Fintech startup companies have been functioning with.
Although Fintech companies adapted to this digital transition quickly and the resulting changes in demography, the only way for banks to reinvent themselves in the millennial era is through intelligence. By using AI in Fintech, they will have to learn the trade secrets.
Let us walk you through the locations of contemporary technologies and the applications of AI and ML in fintech for Millennials, emphasizing how fintech firms and banks may get around these issues.
Millennials and modern fintech technologies!
The millennial user group has been disrupting markets for many years, forcing businesses to scurry to find the best strategy to draw the first generation of digital natives to their fields.
As more of these young adults join the workforce and make financial investments in their futures, the Fintech sector will soon come to the realization that they cannot operate with the mindset of business as usual with this smartphone generation.
In comparison to previous generations, modern technologies like AI/ML (Artificial Intelligence/ Machine Learning) and IoT (Internet of Things) have been praised for being progressive and more receptive to new ideas for finance apps.
Millennial users value simplicity and openness. They desire convenient, tailored financial products and services that are neither time nor place-bound. In order to maintain a competitive advantage in the context of rapidly shifting technology and demand change, Fintech companies must maintain these fundamental sets of traits.
In order to meet changing consumer expectations, many Fintech companies have already embraced this niche opportunity by replacing traditional banking with business mobile apps.
Artificial Intelligence and FinTech
Artificial intelligence is one area that Fintech companies have concentrated on.
One of the largest disruptors to the commercial economy is artificial intelligence in the FinTech sector, with practically every vertical either using the technology or expecting to do so within the next five years. In fact, AI is expected to be one of the biggest fintech trends in the coming years, and developers of AI and machine learning apps focused on the fintech industry are working hard to succeed in this area.
Artificial intelligence (AI) is being used in banking in certain use cases, which is why Fintech is focusing on millennials and leveraging AI to not only enhance millennial consumers' experiences but also completely overhaul their business models.
Let's examine some of the applications for artificial intelligence that the fintech sector has discovered in order to alter its mobile offering. These situations ought to be viewed as a string of fresh possibilities for a Fintech firm.
Fintech applications of AI and machine learning for Millennials
Financial services will likely be dominated by AI, according to industry experts. Through its numerous applications and use cases, artificial intelligence has contributed to the expansion of the fintech sector and drawn millennials into the field. The uses of AI in banking and finance that millennial users can use are listed below.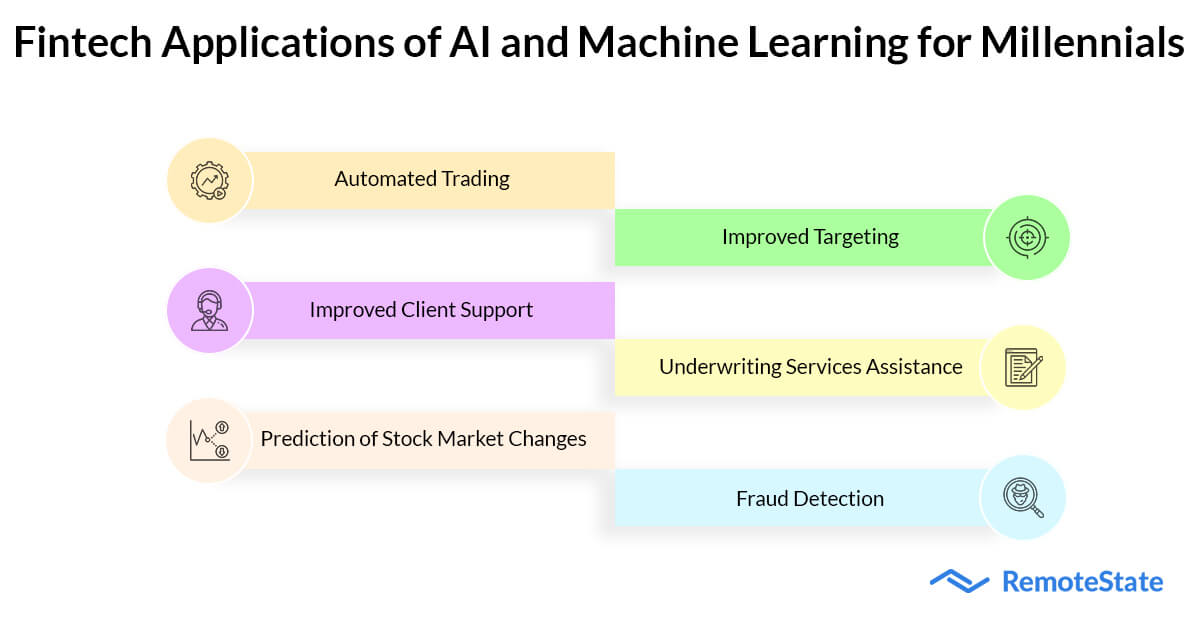 1. Automated Trading
Although the idea of algorithmic trading is not new in the world of finance, employing AI to carry out the operation efficiently across millions of devices is.
Due to the near impossibility of manually replicating the frequency of trades conducted through machine learning, a large number of financial companies invest in algorithmic trading.
2. Improved Targeting
The primary advantages of ML and AI for banks are greater targeting chances.
Regardless of the time or place, millennials deserve customized care at their fingertips. Robotic advisers powered by machine learning are being used by fintech companies to fulfill this need in place of the constant need for human advisors.
This robotic advisory industry's focus on millennials is intended to both recruit them and save financial institutions' enormous processing expenses. The degree of personalization and responsiveness that robotic advisors provide is the key to understanding the influence of AI on the finance industry.
3. Improved Client Support
Fintech businesses and banks are making their customer service digital and real-time, which is one of the main uses of sophisticated automation and AI in the banking and finance sector. Let's take a closer look at some concrete instances of how AI can be included in customer support services and how it may become one of the main advantages of artificial intelligence-based apps, particularly those that are focused on banking and other financial services:
The most fundamental way that fintech is reaching millennials is through chatbots. Banks may automate over 90% of their interactions with chatbots by the end of 2022. AI assists financial firms in quickly resolving customer issues by utilizing tools like chatbots.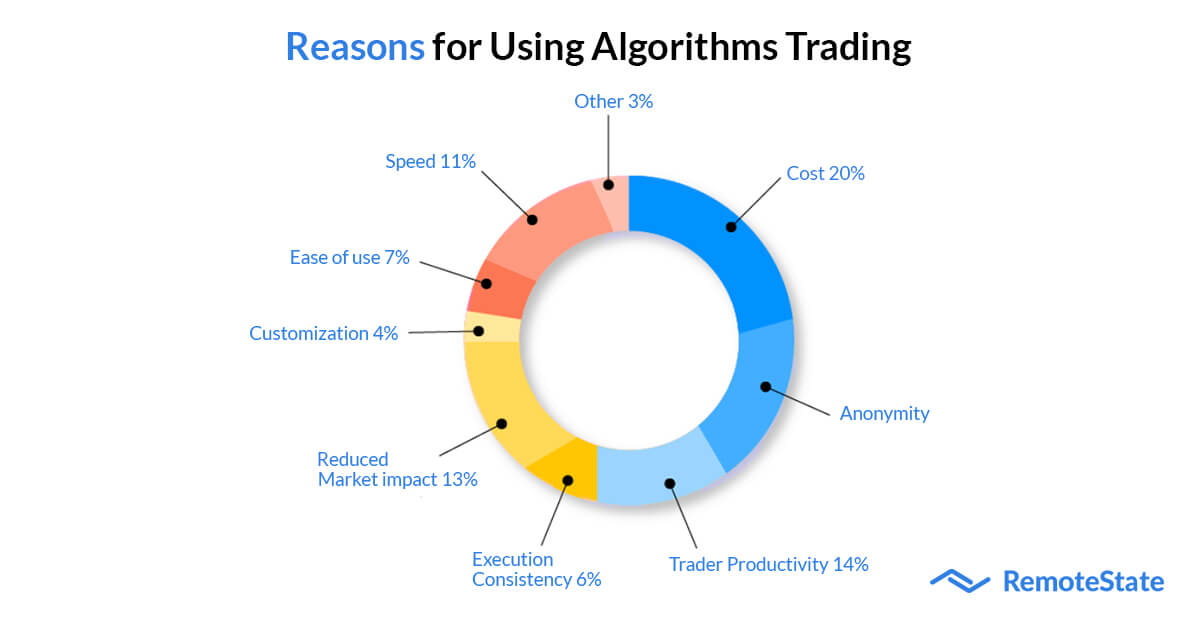 For any company or organization, personalization is the key to winning over and keeping customers' trust and loyalty. People value close interactions and transparency with the institution and mobile app, particularly when working with matters relating to finances. This is one of the key arguments for why people support the use of AI in banking and other fintech applications.
When organizations inquire about how to leverage AI to create cutting-edge apps, personalization is the top request. ML algorithms can aid in the analysis of customer data and the prediction of the services that will most or least wow Fintech users.
4. Underwriting Services Assistance
Every user of financial services has risks, which are evaluated throughout the underwriting process. The use of AI in this financial process involves determining applicants' genuine value by looking into their stringed data, particularly those concerning their personal spending propensities on social media and elsewhere.
The underlying lending trends that may have an impact on the financial industry in the future can also be evaluated and predicted using AI algorithms.
5. Prediction of Stock Market Changes
The need for apps to help with navigation has increased as the stock market has emerged as one of the finest investment options for millennials. anything that has aided in defining more recent ML and AI applications in the financial sector.
There are now a number of mobile apps with AI backing that examine historical and current data about businesses and their stocks. Additionally, they assist investors in determining which stocks are suitable for investment and which would be a poor decision.
6. Fraud detection and forecasting churn
One of the main worries for millennial consumers is financial fraud. However, by understanding big data sets and looking for fraudulent trends in them, AI and machine learning can aid in fraud detection. Data mining and anomaly detection are both parts of the AI/ML approach, which FinTech companies may use to protect their customers' data from identity theft, cyberattacks, and phishing.
For financial organizations, churn prediction has also proven to be a game-changer. Instead of acquiring new consumers, major financial companies prioritize keeping their current clientele. Financial services companies may find out why their customers departed and which customers are most likely to stop using their services by using AI-powered churn forecasts.
Here are six ways that fintech companies are using machine learning and artificial intelligence to appeal to millennial users and keep them interested in their mobile financial services. The aforementioned examples also highlight the advantages of AI in banking and other financial businesses.
Knowing how AI is applied in FinTech, you should seize this excellent chance to invest in AI software development services.
How Remotestate can help in the creation of AI software?
We have perfected the art of integrating artificial intelligence and machine learning in financial operations after developing numerous AI software and apps for FinTech startups and businesses. We specialize in creating clever solutions that will assist your company in automating processes, finding solutions to issues, and improving customer service.
Data collection, analysis, and multi-platform integration are all included in our array of AI/ML solutions.
Get in touch with our experts for specialized AI/ML-based business solutions.
Let us assist you.