The introduction of technology in the banking and financial sector has completely altered the environment. The fusion of finance and technology, or fintech, has not only increased the ecosystem's convenience but also improved its speed, profitability, and security. It has provided fresh opportunities, catered to underserved audiences, and even had a substantial impact on other firms.
Here we will be talking about 17 various chances, assuming that you are an entrepreneur who wants to participate in this expanding market but is unsure of which fintech company ideas will dominate the industry. Additionally, you may succeed in business by ensuring that your financial firm doesn't fail.
So take a seat on a comfy couch and begin scrolling down.
17 Lucrative Fintech Development Industries to Launch Your Company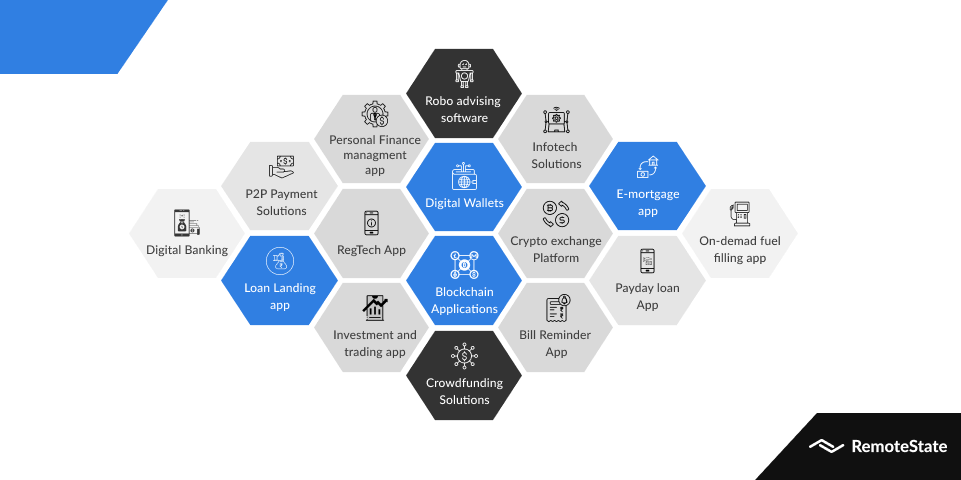 Digital Banking
Digital banking is the first and most significant fintech app concept you can invest in.
In recent years, there has been a noticeable change in how individuals engage with their banks and value financial services. Users no longer value the necessity of going to their neighborhood banks or ATMs for money transfers and other needs. They are instead taking advantage of the benefits of digital banking, including how simple it is to complete transactions, invest, create accounts and deposits, block cards, add beneficiaries, and much more with just a few touches on their devices.
Payment-by-P2P services
Looking ahead to how to design a P2P payment application is also a good idea given the growth of the peer-to-peer payment business.
Even when registered with separate banks and payment systems, P2P payment applications like Venmo, Google Pay, Zelle, and PayPal provide users with an unmatched ability to instantaneously transfer money across bank holders. They are reducing the requirement for any middlemen or commission fees associated with doing any transaction.
App for managing personal finances
One of the finest financial app ideas to keep in mind for easily entering this industry is a personal finance management app.
These apps are gaining popularity in the market as customers become more aware of their wages and savings. As a result, investors and entrepreneurs are looking to build personal finance app concepts.
Automated advice software
Robo-advising, which is one of the established strategies used by fintech to draw millennials, is a fantastic sector for investing in the financial application development industry.
The best tailored and future-focused financial advice is being provided to consumers by this machine-learning-powered software at a cheaper cost. To help them improve their after-tax profits, they are also scrutinizing their spending and investment decisions. Additionally, they are enhancing the process's ease with little to no human involvement.
App for Lending
One of the hottest rising app ideas in the fintech sector is building a financial app for peer-to-peer lending.
A loan lending app, also known as a peer-to-peer lending app, serves as a marketplace where lenders and borrowers may interact and meet each other's needs without utilizing any financial institution's product discovery services. These forms provide applicants the option to choose the highest borrowing rates they are comfortable with. On the other hand, they let lenders negotiate with one another to provide financing at the most affordable rate. Gain additional clients or debtors with this method.
RegTech App
Applications for regtech are also included in the greatest mobile app ideas for leading finance businesses.
Financial institutions can comply with all national and international regulations thanks to these mobility solutions. They let businesses automate a significant portion of their procedures, such as compiling and submitting reports, monitoring and reporting on transactions, and verifying the identity of customers, while also improving client retention rates.
Trading and investment app
Another choice that might propel you to the forefront of the industry is to invest in the process of developing trading and investment apps.
These days, users are quite fond of platforms that enable them to learn everything there is to know about shares, stocks, currency, and funds and to invest wisely in them. They are focusing more on tools that enable them to evaluate asset valuations and take wise decisions by compiling investing data from various sources.
Digital wallets
Since users may avoid carrying traditional wallets or credit/debit cards thanks to digital wallets, their market is likewise expanding considerably. With only a few taps or by utilizing their biometrics, users of these programs may make payments and receive valuable coupons and offers in exchange.
Blockchain-based software
Given the increasing influence of blockchain in finance, adopting this technology for company startups is also unquestionably advantageous.
Currently, several fintech startups in 2021 and businesses including We.trade, Circle, LAToken, Veem, and PayStand use this technology to provide their target user base with a wide range of possibilities.
This comprises:
Executing financial transactions with bitcoins,

Upon learning that the goods have arrived at the port, they just pay for transportation.

working as a decentralized autonomous organization (DAO), where members abide by the rules that specify who their members may be, what types of organizations or activities are permitted, and how tokens or money may be traded.
Crowdfunding alternatives
One of the most effective business models for financial businesses is developing as crowdfunding. One of the strongest alternative funding strategies for entrepreneurs is these digital financial software solutions. They assist them in obtaining financing for their start-up or ongoing businesses through a coordinated effort between several private donors and venture capitalists.
Insurance technology
As you may know, in the financial industry, insurance and banking have long operated as joint ventures. In several situations, they have coordinated their operations. And now that finance has evolved into "fintech," insurance has created an updated version of its answer called "insurtech."
Creating an insurance mobile app is a good way to grow your clientele and your clientele. With the integration of cutting-edge technologies like AI, IoT, Blockchain, Open API, and machine learning, this subdomain helps insurance companies provide impeccable customer service by analyzing a tonne of user data, examining market trends, comprehending user emotions and needs, providing personalized yet quick policy comparison options, managing risks, and much more.
Cryptocurrency trading system
Last but not least, one of the top financial startup ideas to focus on is creating a cryptocurrency exchange platform like Coinbase.
By exchanging cryptocurrencies for other assets like fiat money or other digital currencies, these platforms allow users to participate in the decentralized market. In other words, they let users purchase and sell their crypto coins as well as exchange one cryptocurrency for another and receive crypto tokens in exchange for fiat currency. All the while taking advantage of benefits like openness, cheaper costs, more security, and quicker processing.
Payday Loan App
Payday loan applications are another intriguing application idea that one may use to invest and make money. You may lend their app users a particular amount to help them out through financial emergencies like bill payments, medical costs, or EMIs with their financial applications.
App for bill reminders
For people who regularly forget to pay their power, water, phone, credit card, and other bills on time and must thus incur unnecessary late payment fees, a bill reminder application can prove to be a money saver. You can think about developing an app that informs customers when their bills are due.
Maintenance of financial records
For many people, keeping track of payment receipts, tax invoices, and other financial documents may be a difficult task. Designing such programs might thus serve as a fantastic financial business idea to make maintaining financial records an easy task for busy people.
Apps for electronic mortgages
Another fresh finance app company concept that emerged in the wake of the COVID-19 outbreak is this one. People used to have difficulty getting a mortgage, so electronic loan applications have made the loan application procedure quick and straightforward so that people can obtain contactless loans without too much worry.
App for On-Demand Fuel Filling
To begin with, if you are in gridlock, no one can predict when you will run out of petrol. It may not seem like a huge deal, but it might cause you a lot of trouble, especially if you're traveling with a family, heading to work, or any other important destination. Consequently, whether you work for an oil firm or a business that serves vehicles, then developing an on-demand fuel delivery application can be a trend-setting mobile application idea in 2023.
Things To Take Into Account Before Starting Your Fintech Business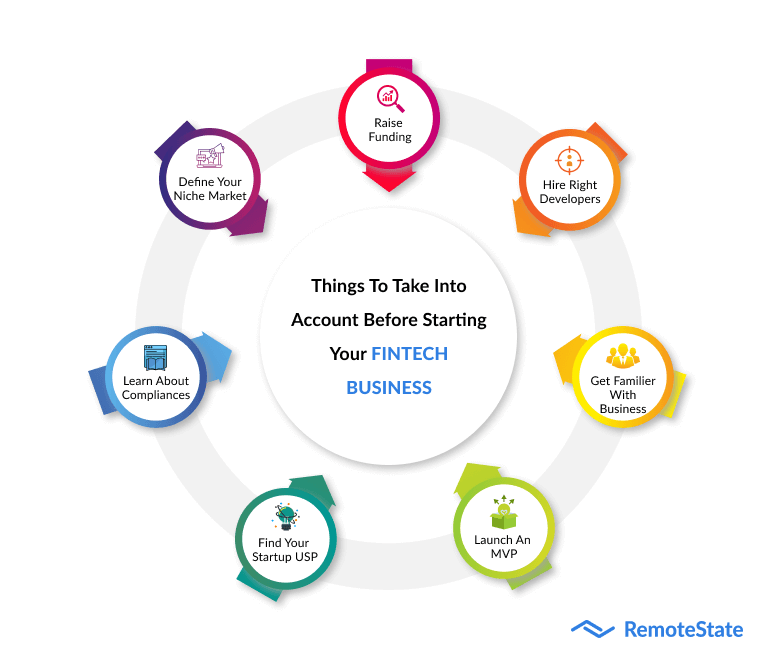 Choose a niche market
Fintech is a vast area to investigate, as was already said. It can be challenging and practically impossible to attempt to dominate the whole financial world at once. Therefore, it is advised to select a specific specialty from the following list of market subcategories.
Payment and international money transfers, mobile banking, personal finance management, insurance technology, trading and lending, crowdsourcing, data analysis, and financial decision-making are some examples of these services. Once a niche market has been identified, conduct market research to identify the precise demographics of the customers your product or service will be targeting, such as age, gender, occupation, and country. This will enable you to begin your best financial firm locally initially before expanding to the international market with more success.
Discover compliances
The banking and fintech industries are very heavily regulated. One must thus be aware of all the needs, specifications, and features of this extremely complicated field, including all applicable laws, rules, and regulations.
Locate your business USP
The fintech sector is getting more and more competitive every day as a result of expanding prospects and earnings. Given this situation, it is now even more crucial for anyone who has an original idea for a banking app to be certain that it outperforms the competition. In other words, the concept they come up with is not merely generic; it provides functionality that has never been seen before. Something that could end up becoming the USP of their brand.
While conducting consumer surveys and reading through various studies would be beneficial, investing your time in competitor studies will pay off. This method will assist you in identifying the factor that all the leading players, their businesses, and their revenue models share as a source of success.
Increase funds
Even if you may have some cash on hand, other fundraising strategies are popular in the industry, including bootstrapping, crowdsourcing, venture capital, and angel investment. So, anticipate using these techniques to raise sufficient funds to give your ideas for fintech apps financial backing.
Choose knowledgeable fintech developers
Unbelievable as it may seem, without the proper group of financial app developers, not even the best concept can make it through the market. Therefore, explore outside of yourself to give your app concept a shape rather than keeping it all to yourself. Instead, plan to hire a reputable financial software development firm.
You may choose the best technology stack, rework your business plans, overcome hidden obstacles, and scale up your financial app concept with the aid of a team of specialists with experience in app development and your specialized subdomain. And all of it without emptying your wallet.
Learn about the technological and business difficulties
A fintech firm faces several difficulties, particularly those relating to the disruptive nature of digital technologies, just like any other startup does.
For illustration:
Cybersecurity

combining AI and blockchain

use of big data,
Therefore, it is advised to obtain thorough knowledge about these difficulties as well as make contact with the financial app development businesses that help in efficiently and successfully minimizing them.
Start an MVP
Not to mention, resist the need to create a whole financial mobile application. Instead, plan on performing a Minimal Viable Product (MVP) test first.
A minimum viable product (MVP) not only enables you to join the market more quickly and cheaply, but it also aids in fundraising.
The Fintech industry is expanding at an astonishing rate. There are several fintech app business concepts emerging. However, not all entrepreneurs are taking advantage of the same chances and advantages associated with creating financial apps. Their trip is more difficult than they had anticipated because of the pressure to produce the best possible fusion of knowledge, imagination, trust, and technology.
However, by doing the aforementioned actions, you may minimize obstacles in your way and quickly make the list of the best fintech startups for 2023.
Feel free to contact us if you have any questions.