The influence of AI has spread quickly across industries. The healthcare sector is no exception. AI is being used by healthcare providers to help patients round the clock. With the aid of a medical chatbot, patients can get the information they need when they need it and enjoy a better healthcare experience.
Chatbots in the healthcare sector save professionals a tonne of time by automating all of a medical representative's mundane and lower-level duties. But that's not the case. They collect and preserve patient data, ensure it is encrypted, enable patient monitoring, provide a range of educational support, and provide more extensive medical assistance. Healthcare chatbots in general are revolutionizing the industry.
Benefits of Chatbots in Healthcare
The employment of chatbots in the healthcare sector has turned out to be beneficial for the sector in many ways. Here are a few healthcare chatbot benefits that are important to note.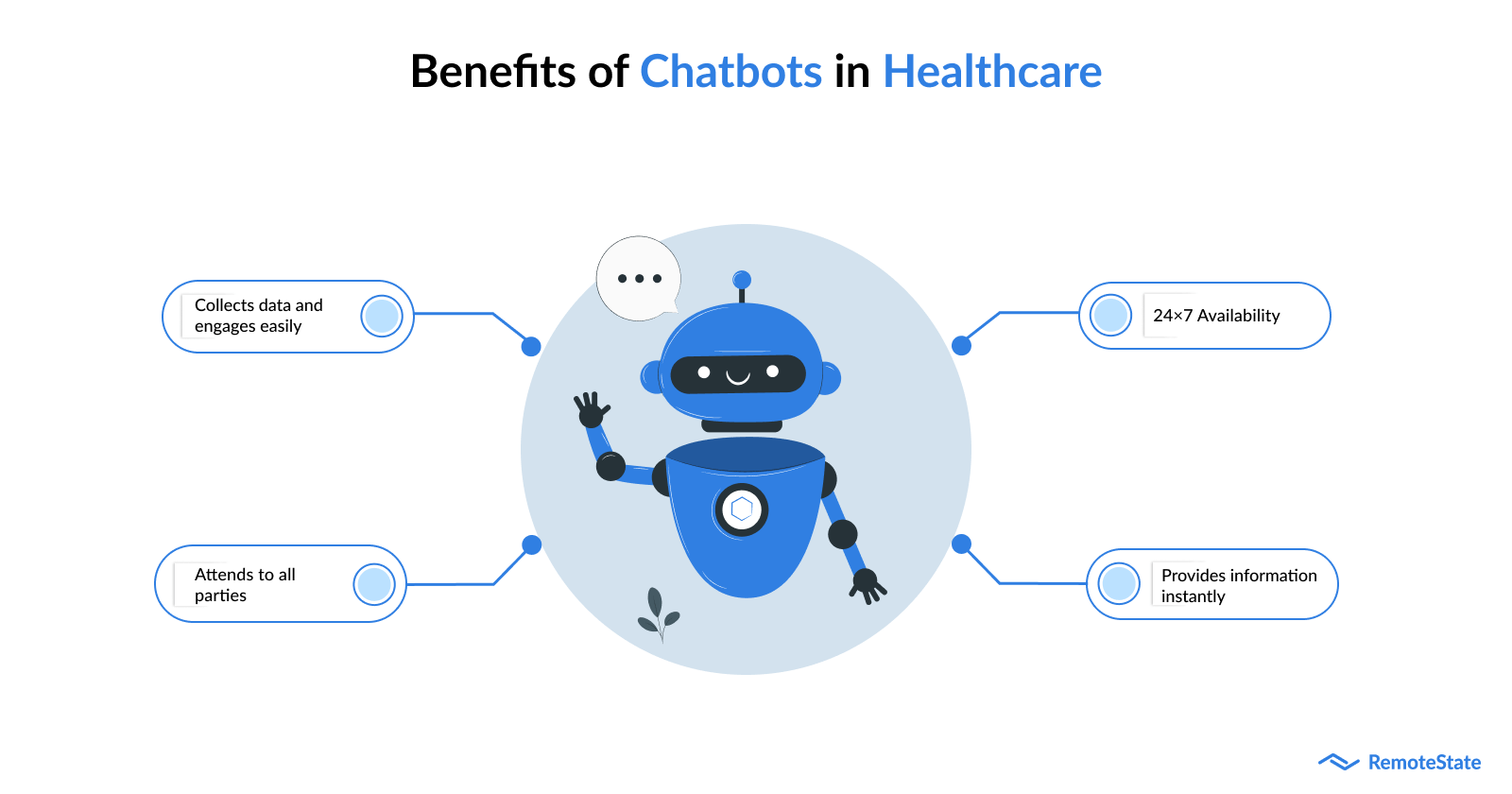 24/7 Availability
Medical professionals might not always be able to handle everything. Emergencies can occur at any time and require immediate medical treatment. Patients may require help at any time with anything from identifying symptoms to planning procedures. In this situation, chatbots can be helpful. Everyone has constant access to them.
Collects data and engages easily
Empathy is crucial in the healthcare industry. Medical chatbots query users to collect information that is then utilized to modify the patient's overall experience and improve company procedures in the future.
Attends to all parties
Only healthcare experts can give one-on-one care. Consequently, their range is limited. On the other hand, medical chatbots may help and interact with multiple patients at once without lowering the amount of interaction or information provided.
Patients can engage with specialists through chatbots for healthcare through conventional channels such as phone calls, video calls, texts, and emails. This increases participation and gives medical professionals more time and opportunity to focus on patients who need it most.
Provides information instantly
Time is of the utmost importance in the medical industry. Chatbots in the healthcare sector quickly give helpful information when every second matters. If a patient runs with an attack, chatbot technology in healthcare can quickly provide the doctor with details on the patient's history, ailments, allergies, check-ups, and other issues.
What roles do chatbots play in healthcare?
It's time to examine the numerous healthcare chatbot use cases now that you are aware of the benefits of chatbots for the industry.
Here are ten ways that chatbots are changing the healthcare industry.
Easy appointment scheduling
Making appointments is one of the activities that is done most frequently in the healthcare industry. However, due to issues like slow applications, multilevel information requirements, and other issues, many patients find it difficult to utilize an application for booking appointments.
When patients encounter a lengthy wait time, they frequently reschedule or perhaps permanently switch to another healthcare practitioner. The employment of chatbots in the healthcare industry has shown to be an excellent remedy for the issue. By using a message interface, users of a website or app can instantly access a chatbot.
Appointments can be scheduled using a well-designed healthcare chatbot based on the doctor's availability. Chatbots can also be built to interface with CRM systems, which will help medical staff remember which patients have been seen.
Providing important medical data
Chatbot algorithms are trained using extensive healthcare data, including disease symptoms, diagnosis, signs, and potential treatments. Public datasets are frequently used to train chatbots for the healthcare industry.
As a result of this training, conversational AI chatbots with varying levels of intelligence used in the healthcare industry may understand user questions and provide responses based on specified labels in the training data.
This saves consumers the time and stress of making an appointment with a doctor or clinic because, with these chatbots, a diagnosis can be obtained with relative ease and with little information input.
Monitoring symptoms
Chatbots are now increasingly used to analyze a patient's symptoms and determine their medical condition without requiring them to visit a hospital. No of the range of inputs, creating NLP-based chatbots can assist in interpreting a patient's needs. More precise reactions are essential when assessing the symptoms, and NLP can aid with that.
Based on the pre-fetched inputs, the chatbots can use the knowledge to help the patients identify the ailment that is causing their symptoms. Using an interactive bot and the information it delivers, the patient can select what dosage of therapies and medications is necessary.
Claims and coverage
Chatbots can be programmed to assist patients with their insurance claims. A healthcare chatbot can therefore provide patients with a simple way to get important information, whether they want to check their current coverage, submit claims, or monitor the progress of a claim.
Additionally, since they can easily access patient information and inquiries, this makes it easier for doctors to pre-authorize billing payments and other requests from patients or healthcare authorities.
Quick response to inquiries
One of the most common sections of every website is the frequently asked questions section.
These are the types of straightforward inquiries that a chatbot does well:
What time does the institution open and close? What proof is required to receive a certain treatment? What are the payment tariff rates? How much of the cost will be covered by insurance?
In the healthcare sector, patients may use chatbots to get in touch with a doctor for critical issues. By serving as a one-stop shop, a healthcare chatbot may rapidly react to any patient questions.
To respond to general inquiries from customers, several healthcare service providers are transforming FAQs by including an interactive healthcare chatbot.
Information gathering for patients
One of the key uses for healthcare chatbots is data collection about patients. Simple questions like the patient's name, address, phone number, symptoms, current doctor, and insurance information can be used to gather information by employing healthcare chatbots.
More data storage makes it easier to accept patients, monitor their symptoms, engage them in direct patient communication, and keep track of medical records.
Automated refills for prescriptions
One of the best uses of chatbots in the healthcare sector is automating medicine refills. Many patients must wait weeks before having their prescriptions filled in most doctor's offices because of the excessive quantity of paperwork, wasting crucial time. As an alternative, the chatbot can check with each pharmacy to verify if the prescription has been filled, and then it can send an alert when the medication is prepared for pickup or delivery.
Because of this, doctors are freed up to focus on their patients rather than on tedious duties like calling pharmacies and waiting for a callback. It also helps patients stay informed about their upcoming medical appointments so they don't miss any doses or are confused about what to take when they see the doctor again.
Assistance with medical care
Chatbots are trained to provide cognitive behavioral therapy (CBT) for patients with depression, PTSD, and anxiety. They may even instruct autistic people on how to improve their social skills and do well in job interviews. Users can communicate with chatbots through text, microphones, and webcams.
Program recommendations for wellness
One of the key elements of the healthcare industry is growing enrollment. The best option for healthcare institutions to raise awareness and promote enrolment in various initiatives is medical chatbots.
A well-designed healthcare chatbot with natural language processing (NLP) can understand user intent by using sentiment analysis. Based on how it perceives human input, the bot can recommend appropriate healthcare plans.
Easy-to-scale work hours
Any business can request the opportunity to scale the support up front, especially those in the healthcare industry.
When traffic unexpectedly surges, how would you handle rush hour with the same support system in place?
The result will be difficulties like needing to hire more medical specialists and holding training sessions. By incorporating a healthcare chatbot into your customer service, you can address the problems and offer the scalability to manage real-time dialogues.
Chatbots for customer support in the healthcare industry can boost business productivity without adding any extra people or resources.
How Remotestate can assist you on your journey
Remotestate is aware of the challenges that can arise during the process of implementing a cutting-edge digital solution. Your needs as a business are taken into account while developing solutions by our in-house team of skilled and knowledgeable developers. We support you through the entire procedure.
When the time comes for you to hunt for a chatbot solution for the healthcare industry, locate an experienced provider of healthcare software, such as Remotestate, and have the best option presented to you.
Link up with us!