The digital healthcare industry is one of the most well-funded and quickly expanding businesses.
The healthcare business, as one of the early adopters of digital transformation, is also one of the most difficult places to create a medical company in practice. Why?
High-security requirements, rigorous regulatory constraints, and the intricacy of healthcare partnerships make market entrance challenging for most enterprises interested in launching new medical services.
As a result, in order to thrive, enterprises must first determine "how to launch a medical startup" in the present market landscape. Furthermore, it is how to avoid the dead ends that contribute to the failure of technology healthcare firms.
So, whether you want to establish your own healthcare business or grow an existing one by offering new MedTech services or developing healthcare apps, this article is a must-read.
We will walk you through the whole process of planning and establishing a medical technology firm, including all important success factors and hazards.
Before we get started, it's crucial to understand why medical companies fail. The answer to this question will eventually take us to the aspects and hazards that should be avoided while starting a health-tech firm.
What Causes Digital Medical Startups to Fail?
There is a huge need for new healthcare technologies and solutions. For example, the pandemic has resulted in a considerable rise in patient and medical institution usage of telehealth and telemedicine technologies. Indeed, more than 70% of the US population is eager to use telemedicine, and around 76% of healthcare organizations are prepared to integrate telemedicine coverage into their insurance plans.
So, why aren't new healthcare startup firms succeeding if they have the appropriate solutions? Let us look at the main causes of their failure: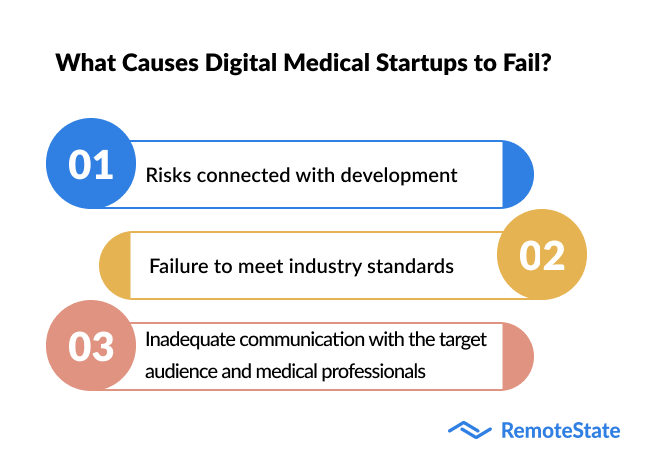 1. Failure to meet industry standards
Building a healthcare firm requires extensive planning and legal advice before you even begin. Most medical startups fail because their founders are unable to complete all stages of accreditation, licensing, industry bureaucracy, regulatory compliance, and testing.
On the contrary, medical business entrepreneurs who conduct thorough research have a better chance of success. Before you begin, keep the following considerations in mind:
Not all healthcare technology firms require the same legal safeguards and approvals. As a result, pick your service compliance carefully.

A few healthcare business concepts, such as "software-only medical goods," can be launched to the market more quickly. Because of the shortened preparation cycle.

On the other hand, certain medical startups need time-consuming legal procedures. Projects covered by FDA rules, for example, include professional quality clinical items.
2. Inadequate communication with the target audience and medical professionals
A lack of established relationships with potential consumers, stakeholders, and funders is another reason why over 32% of MedTech firms fail. As a result, they are unable to get meaningful input in order to finish and develop their goods. Thus, before launching a healthcare firm, ensure that you address at least three of the following points:
To assess possible hazards, contact and present your medical company startup ideas to existing healthcare experts and organizations.

Take specific input from medical practitioners or future consumers to ensure you're on the correct course to developing an effective solution to real-world challenges.

Maintain direct touch with your target audience, particularly healthcare professionals, to ensure long-term support.
3. Risks connected with the development
Other possible medical development issues that cause medical businesses to fail include:
Low usability- imbalanced product functionality, complex interfaces, etc.

Technology complexity or a technological skill barrier

Access to less expensive development choices

Ineffective marketing and communication

Untrustworthy healthcare development partner
Now that we've covered the potential pitfalls, let's move on to the aspects you should think about before entering the healthcare industry.
Important Considerations Before Starting a Medical Startup
Before launching a healthcare firm, make a list of all the essentials to ensure a successful startup business plan. The primary topics to focus on if you want to build a good connection with technology and healthcare are listed below.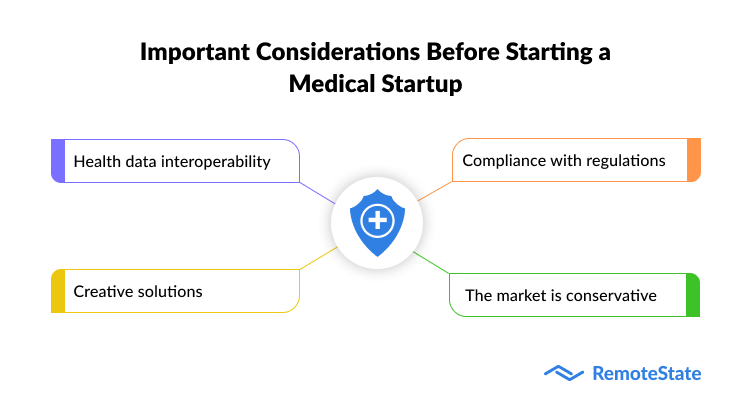 1. The market is conservative
Established medical firms may not necessarily be eager to adapt their business models to the most recent innovations. According to Instamed's 11th annual survey, around 84% of healthcare providers continue to choose paper-based manual methods for patient data collecting and payment.
Despite the added burden, established medical firms are extremely conservative when it comes to working with new instruments and technology. This is likely why, according to a physician analysis poll, 64% of medical professionals say that technology is the biggest hurdle to embracing remote treatment.
As a result, if you want to make a good debut in a conservative industry, make sure you have a solid legal adviser and an evidence-based research product.
This will demonstrate that your digital solution can assist them to enhance their services.
2. Health data interoperability
Any company wanting to innovate in healthcare should not underestimate the complexity of medical data. Currently, more than 36% of medical record administrations are having difficulty communicating patient information.
This implies that your medical startup's product should work with other data solutions or devices used by healthcare practitioners. How do you go about doing this?
Check that your healthcare startup product complies with interoperability standards such as Electronic Data Interchange (EDI), Fast Healthcare Interoperability Resources (FHIR), and so on.
3. Compliance with regulations
Medical startups must traverse hundreds of municipal and federal regulatory requirements. The top three healthcare rules for firms intending to launch a medical startup in the United States are listed below.
HIPAA

The Health Insurance Portability and Accountability Act (HIPAA) governs the safety of personal medical information. Specific standards for electronic medical data interchange, privacy, and security are outlined in the paper.
HIPAA violations can result in fines ranging from $50,000 to $1.5 million per incident.
The Payment Card Industry Data Security Standard (PCI DSS) safeguards patients' financial information. To keep, handle, and share your patient's bank information, your medical startup must follow its policies.
The use of clinical devices is governed by the Federal Food, Drug, and Cosmetic Act. If you want to develop a medical company based on a clinical product, make sure it is accredited for health and wellness management and diagnostics.
4. Creative solutions
Healthcare is not an industry that will take off like wildfire. You must have a meaningful product or medical solution that helps patients. The medical business starting idea accounts for 90% of your company's success. As a result, ensure that your medical business idea is original and helps to improve medical administration and service.
Aside from the aforementioned elements, no matter how good your healthcare company idea is, you must have reasonable financial expectations. Understand that in the healthcare industry, a great startup strategy and the correct development team go a long way.
Now, without further ado, let's get to the meat of our debate. How do you establish a medical startup?
Seven Steps to Creating and Maintaining a Successful Medical Startup
Launching a medical company is a time-consuming problem; however, we have attempted to make the procedure as particular as possible in order to provide the finest industrial solutions. Here's a strategy for launching a successful medical technology startup: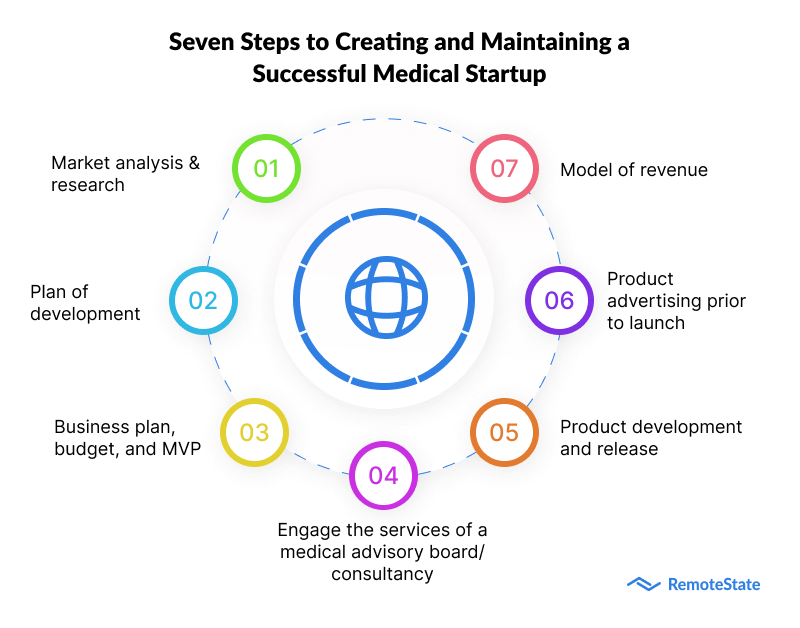 1. Market analysis and research
In a complex business like healthcare, thorough market research are critical. Begin by focusing all of your efforts on your target audience, technology, and existing medical market requirements.
Your users are more likely to be more than just patients if you have a target audience. Medical centers, labs, pharmacies, and research organizations may be among your customers. As a result, identify a precise demographic that will desire to utilize your product once it is published.
Determine your target audience's underlying needs and whether they are big enough to merit a solution. Aside from that, educate yourself about the healthcare market and the constraints that may prohibit your users from embracing your solution.
2. Engage the services of a medical advisory board/consultancy
You will need to comprehend the notion of medical science as well as the niche's peculiarities. A medical board or consulting team may provide you with a balanced viewpoint, potential bottlenecks, and recommendations to safeguard your business model. Furthermore, the medical board members are conversant with current healthcare technology developments that may be beneficial to your medical company.
3. Plan of development
Your development team must design a business product overview. It begins with documentation outlining functional and non-functional requirements, goals, expectations, deliverables, and so on.
Begin with documentation that addresses the following points:
Software product development (tech stack, frameworks, APIs, and open-source tools)

Software/app design (user interface, key features, and functionalities, application logic, etc,)

Architecture (strategies, dependencies layers, components, etc.)

Security (internal and external risks, mitigation strategies, security protocols, etc,)
4. Business plan, budget, and MVP
If you don't want to run out of resources before launch, your primary goal should be to establish and sustain your medical business for at least five years. This implies you should create a budget estimate based on inventory, assets, security deposits, and other expenditures in conjunction with a strategic business strategy.
Calculate the development expenses based on the estimate provided by your outsourced healthcare development business. You may test your idea, essential features, and model using MVP development before moving on to full-fledged development.
5. Model of revenue
You can pick between a one-time licensing cost and a subscription-based approach. Remote patient monitoring systems, wearables, and patient evaluation tools are well suited to one-time payment methods.
Meanwhile, in order to convert additional users, cloud-based medical solutions typically employ subscription-based models. You may also check into several other business monetization methods to acquire a more in-depth understanding.
6. Product advertising prior to launch
Start showing your medical startup product to main target groups before release to capture the most people. Make sure your startup product is also appealing to the industry gatekeepers, such as the government and insurance firms.
Furthermore, novel technological items are more difficult to advertise in the healthcare sector, therefore be prepared to support your product with scientific studies. What may boost the credibility of your product promotion? Peer reviews and random control trials.
7. Product development and release
Analyze the comments you receive after deploying the MVP and have your development team alter the necessary technical specs before moving forward with full-fledged development.
A seasoned medical app development business will advise you to design your medical startup with scalability in mind. For example, cloud infrastructure may be used to change computing and storage resources.
You may also use a microservice or monolith design to separate your product parts. You may also upgrade these modules to improve your product using user-friendly APIs.
You will undoubtedly face a long and difficult path to construct a medical company the proper way; nevertheless, the methods outlined above can assist you at every level of your business development process.
What Can RemoteState Do For Your Healthcare Startup?
Remotestate is the most trusted healthcare software development business, well-known for its creative digital solutions for digitizing healthcare. The trained team of healthcare experts at Remotestate provides the best healthcare management software, enabling clients to dominate the market, improve healthcare quality, increase patient happiness, and streamline internal operations.
Remotestate has worked on more than 50 digitization projects that address three of the most significant barriers to healthcare digitalization: governance, organizational structure, and attitude. Among the many services we offer are:
Apps for telemedicine and telehealth

Electronic Health Records (EHRs)

mPrescription

Management Processes

Medical insurance, software integration, lifestyle tracking, and much more are all available.
To begin, discuss your company objectives with our top medical professionals to obtain personalized insights on your idea.