We all know how the pandemic has accelerated the pace of technology adaptation in various industries. One of the industries which got influenced by technology on a big scale is Hospitality.
Integration of technology in your hotel business can help to enhance the guest experience, streamline operations, manage post-COVID-19 protocols, and boost communication between staff and guests.
So, lets dive deep into the subject and find out
Why you should be using technology in hotel management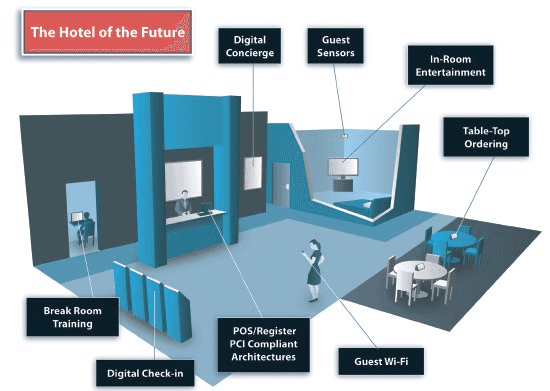 Enhances Guest Experience
The check-in process should be swift and easy for the guests. The majority of airports allow you to check in online or visit kiosks where you may self-check-in and generate your own baggage tags. You may place your orders and make payments at numerous fast-food outlets using a tablet or kiosk. Tickets for movies can be purchased or picked up at a digital kiosk.
Customers demand the same seamless, technologically advanced, contactless hotel experience, especially as contactless hospitality becomes more and more common. There's no need to wait in line or leave your room to order food, whether you check in at an automated kiosk by scanning a QR code or place a tablet order for room service. Hotel visitors desire a simple, pleasant experience. This is made possible by technology in the hotel sector.
Give Your Visitors the Ability to Request Information and Make Requests on Their Terms
Everybody wants convenience, and hotel visitors are no exception. They aspire for everything to be simple and within arm's reach. Many hotels have developed a guest app that gives visitors helpful information about surrounding entertainment options, eateries, bars, healthcare facilities, and more. Additionally, guests can communicate with the hotel using SMS messages with Guest Messaging.
Strengthen Communication
Communication is made easier by technology, especially in the hospitality sector, since many enterprises are big and spread out. Many hotels make use of sophisticated communication tools to keep staff members and various departments connected and better handle visitor requests.
Ensure That Your Staff Can Deliver Outstanding Service
A positive visitor experience encourages repeat business, whereas a negative one can turn away clients for good. By enabling employees to provide great service, technology can help to enhance the client experience.
Many hotels feature systems that automatically save a guest's preferences and remarks (where they ate during their last stay, that they prefer extra pillows, etc.) so that staff may provide for them correctly when guests stay at the same hotel. This kind of personalisation in hospitality management greatly improves the experience for visitors.
Technology in Hotels is Predicted
Technology is crucial in hotels unless they are meant to be secluded retreats for guests looking to disconnect from our always-connected society. When guests enter hotels, they anticipate fast, dependable WiFi. Even better if you can provide them with anything that will make their stay more comfortable, easy, and seamless. You'll undoubtedly improve their overall experience, which will encourage them to come back and/or refer you to others—exactly what you want to happen.
Making Decisions Based on Data
Smart hotel technologies must be used with caution by individuals in the hospitality industry, especially when it comes to safeguarding client privacy. Having said that, some customer information acquired via smart hotel solutions might be helpful as long as hotels are open and follow data protection legislation.
Customers' voice commands and other data must be safely deleted from devices like the Amazon Echo, but certain information, such as usage statistics, can be gathered. In order to make data-driven decisions on what to choose as the default settings, hotels may use this information to identify the most popular TV channels or radio stations.
How to Make Your Hotel a Smart Hotel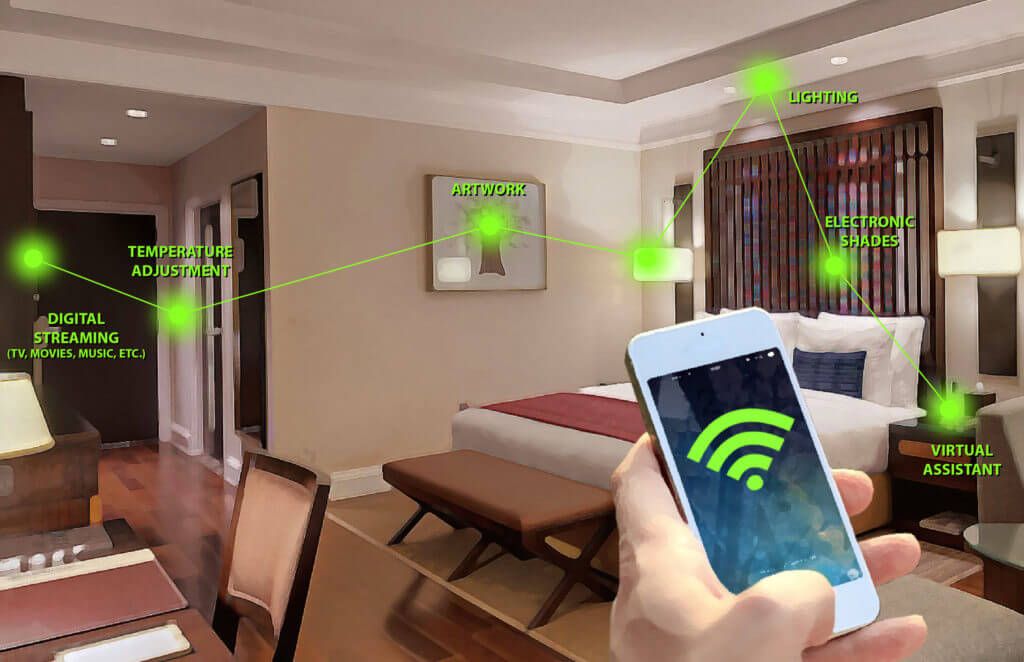 Smart Room Controls
The inclusion of customised room controls is one of the most popular methods that hotels are transformed into smart rooms. IoT technology, for instance, enables centralised management of a room's lighting, heating, air conditioning, and even curtains from a smartphone, smart speaker, smart hub, or tablet.
Companies like Hilton have already implemented smart hotel solutions that let their customers use their smartphones to regulate the thermostats in their rooms. Other hotels have gone a step further by enabling visitors to establish desired room settings using their phones, with the gadgets then automatically maintaining the room's regulation in that manner. Meanwhile, thanks to gadgets like the Amazon Echo, voice-activated lighting is also spreading more widely.
Entertainment Accessible Via Voice
The entertainment equipment in a smart hotel room can also be connected to smart hubs and speakers, enabling voice recognition and voice control of this equipment. This gives visitors the ability to use simple voice commands to change the channel or switch the television on or off from anywhere in the room.
However, hotels can take this idea a step further by giving guests the ability to issue more complex orders, such as buying pay-per-view movies or having personal music playlists played over smart speakers. Since gadgets can be utilized from everywhere in the room, the experience will be more convenient in the end.
Faster Guest Services
Connecting gadgets to hotel services is a fundamental advantage of the Internet of Things in a smart hotel. Importantly, these services might include everything from standard guest amenities like ordering food or drinks from room service to things like scheduling massage appointments or workout classes in the hotel gym.
A voice-activated smart hub might be present in a smart hotel room, or it might allow visitors to use a tablet or television to access an app. Customers may be able to do things like use a touch screen to buy room service or a simple voice command to the smart hub to make spa appointments.
Sustainable Hotel Rooms
Customers are becoming more and more interested in ideas like sustainability, and many are prepared to pay more for brands that practice sustainability. However, hotel management should also be concerned with sustainability because any chance to reduce energy expenses also represents a chance to boost overall business performance.
IoT technology can aid in this situation by automating energy conservation. Imagine, for example, that a heating system automatically adjusts the temperature based on the room's temperature in order to save money, or that a room automatically detects the amount of light in a room and then seamlessly reduces or increases the brightness of the light bulbs.