People now rely on laptops and cell phones to do their everyday tasks. Its use extends to digital payments and banking via applications. It enables consumers to manage their own accounts, trade cryptocurrencies, and even invest in foreign enterprises through the ease of an app. Starting a fintech firm might provide you with a larger audience than a typical financial institution.
With the epidemic, the focus turned even more to digital payments. Fintech app usage is so swift that the number of fintech businesses has tripled in the previous two years.
If this has piqued your interest, let's talk about how we can help you finish your fintech startup business plan.
Startups reshaping the financial technology sector
Let us look at several firms in the market that are performing well in their respective fields.
Stripe

Mint

Robinhood

Coinbase

Revolut
Now that we've seen the key fintech businesses that are achieving tremendous success, let's take a look at the processes required to launch a fintech startup.
How do you establish a fintech company?
Let's take a look at the actions you'll need to take to launch a financial technology firm.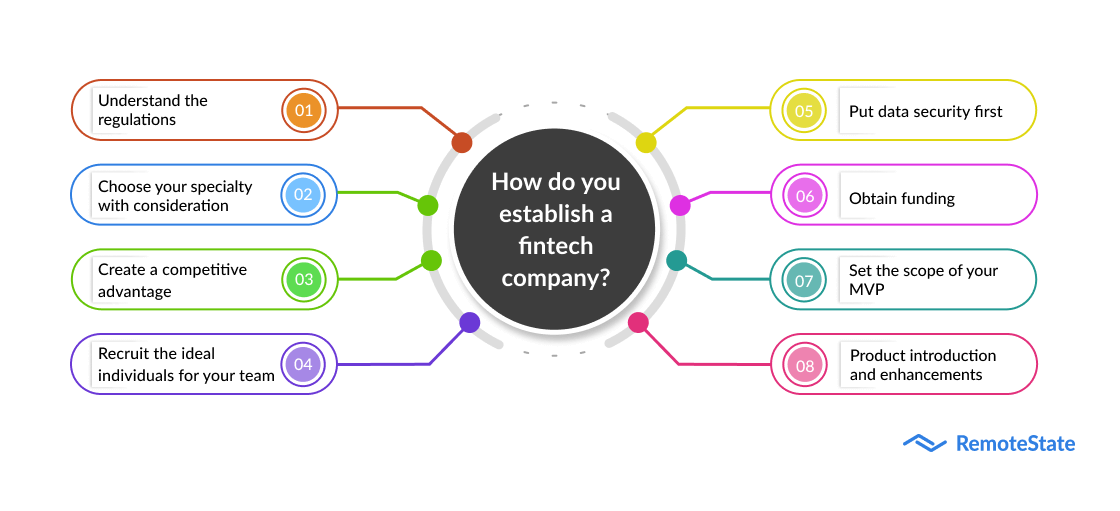 Understand the regulations
Banking and fintech are heavily regulated industries. As a result, you must be well-versed in all aspects of this incredibly complex sector, including regulating organizations, regulations, limits, and standards.
The General Data Protection Regulation (GDPR) applies to all businesses that interact with customer data. This policy is only the beginning for enterprises in the finance sector.
Anti-money laundering (AML) rules, Know Your Customer (KYC) compliance standards, and PCI DSS conformance are all common fintech legislation in the United States. You may also be required to employ traditional authentication techniques such as digital certificates.
Keep in mind that wherever there is money, there are rules and restrictions. Before beginning any work, ensure that your plan conforms with existing rules to ensure that your clients' money is secure in your system and their identities are reliably protected. Prepare to implement frequent legal auditing techniques to keep compliance concerns under control.
Choose your specialty with consideration
The need for all forms of financial software is currently on the rise. However, the fastest-growing market segments include digital payments, personal finance management, and alternative financing. The use of investment solutions has also grown significantly.
Here are some of the many fintech subdomains to consider:
Investment management

Personal financial management

Global money transfers

Loans and advances

Bitcoin and blockchain-based technologies

Crowdfunding
Depending on your subdomain, your product can target a certain audience, such as a nation or demographic. It is advisable to begin your business locally and later expand abroad.
Create a competitive advantage
After you've decided on a specialty, look into your competition. A detailed understanding of the industry and your rivals will help you establish a distinguishing characteristic or competitive advantage that will distinguish your product from similar items presently on the market.
It might be a whole new product aimed at a specific market (such as financial services for the unbanked), or it could just be an improvement to an existing good service (e.g., fast and simple mobile banking).
At first glance, the commercial potential in fintech appears to be fairly vast. However, well-known organizations such as Microsoft and a few extremely profitable enterprises (such as Stripe and Coinbase) dominate the industry. In any case, you should bet your concept on faultless execution if you want to succeed.
Recruit the ideal individuals for your team
Having the proper people on your team is one of the many needs for a successful business.
However, attracting developers and expanding your team locally may be tough, especially if your town has a tiny talent pool.
To create a workable solution in a short period of time, your team must be competent in both technology and finance. Consider hiring a professional software development agency like Remotestate to handle your development needs. Your partner development business must have a track record of developing successful startup solutions.
You will be able to generate large cost savings and refocus managerial attention on marketing and product development by doing so.
Put data security first
Verify your company's security, as well as the encryption and cloud storage of any critical data. This should be your first priority as a finance business. Fintech security issues may result in the leakage of sensitive information that might be used for theft or fraud.
Conduct extensive testing to identify any flaws and ensure your company's top-tier financial cyber security. To safeguard your clients' information, utilize transport layer security (TLS) on all network connections, prevent unauthorized API connections, and use an HTTPS SSL certificate.
A cloud platform such as AWS might potentially be used. It provides a robust defense against DDoS attacks and backs up data so that it may be restored in the event of a network outage.
Obtain funding
If your personal resources are limited (as they usually are), you must first seek external financing before starting a financial enterprise. Funding for your fintech firm might come from intimate friends, family, or seed investors. To obtain funding, you must go to the MVP stage, where you will pitch your company to more experienced investors for future development and expansion.
Set the scope of your MVP
As a startup owner, the shortest feasible period between writing the first line of code and enrolling your first users should be your top focus. To accomplish so, you must carefully determine the scope of your MVP (Minimum Viable Product), which should be modest while yet providing customers with enough features and capabilities to get a sense of your company.
Rapidly reaching the MVP stage helps you to save money, decrease time to market, and begin testing and responding to user input much earlier, all of which improve your prospects of long-term success.
Product introduction and enhancements
After your MVP has been authorized, the following stage is to put your product on the market.
As a new fintech startup, you will encounter tough competition, but do not be afraid.
Continue to focus on developing your product to provide a better user experience and greater cybersecurity.
Even if your consumers think your product is great, you should always try new ideas to improve it.
Major technologies necessary for the development of a fintech startup
To establish a fintech firm, you need to stay current on technological advances that you may implement into your organization. The better the technology, the better the service you can provide to your consumers. Here is a list of the fundamental yet necessary technology you will require to launch your Fintech venture.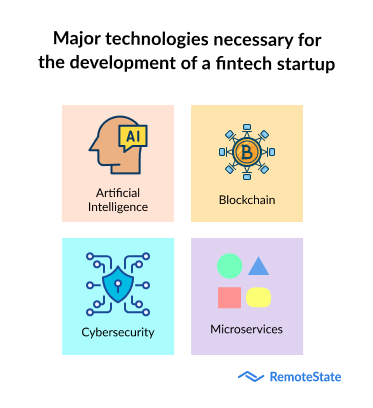 Artificial intelligence
Real-time data is recognized and analyzed by AI, which then proposes the best course of action. As a result, AI has a variety of applications for handling financial challenges.
It can, for example, be used to detect fraudulent activities in digital banking, insurance, and other industries.
Blockchain
Technology will assist you in developing a dependable and transparent finance solution.
It generates a time-stamped sequence of uneditable data that you are unable to remove.
Furthermore, it stores in a decentralized manner.
Cybersecurity
Every fintech organization is concerned about cybersecurity.
Before launching a financial venture, consider how you will manage and preserve sensitive consumer data.
Your team should employ a variety of security procedures to prevent security gaps and data theft.
Microservices
Using microservices, an application may be arranged as a set of interconnected services. It establishes a decentralized data management mechanism in a distributed system. Any new solution may be swiftly integrated into your infrastructure.
How can Remotestate assist you in launching your own Fintech startup?
Looking for a financial software development business to help you put your fintech startup ideas into action? Remotestate can assist you. We've been in the software development sector for a few years now, and we've had the opportunity to produce digital solutions for a number of worldwide companies. We begin by listening to our client's challenges before guiding our solutions.
On that point, we are delighted to embark on your adventure to establish a fintech firm. We will assist you in turning your idea into a successful project. So contact us right now!